Football state semifinals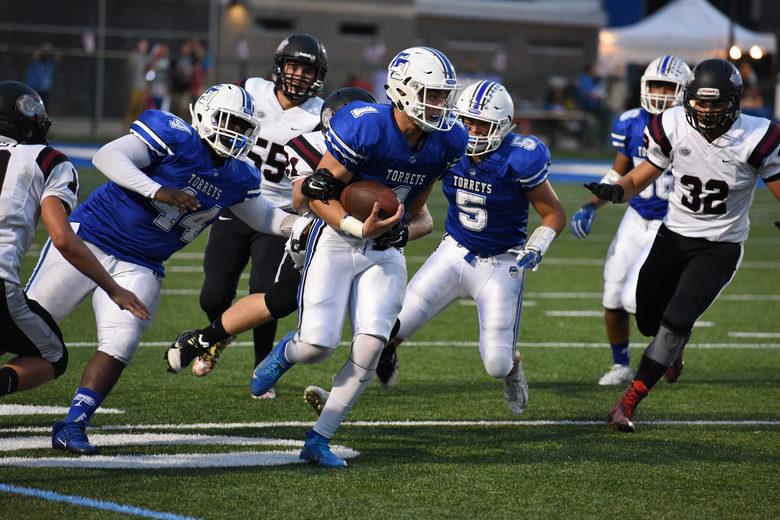 Spencer Dee, Staff Writer
December 14, 2016
Last Saturday, hundreds of fans flocked to the Country Day athletic field to witness the State Semifinals game between the Torreys and Arroyo Knights. It was cold and foggy as both teams got set for the 7:30 kickoff. Everybody knew the stakes: the winner would play for the division five state championship.
After the singing of the National Anthem by La Jolla Country Day's own "Madrigals," Torreys won the coin flip and chose to receive the kickoff. The Torrey's started out strong, scoring quickly on the opening drive on a nine yard touchdown pass. Arroyo responded late in the first quarter with a scoring drive of their own. Two 20 plus yard plays in a row propelled them into the red zone where they capitalized with a fifteen yard touchdown pass, although they missed the extra point, putting the score at the end of the first quarter at 7-6 in favor of the Torreys.
Playing off the momentum of the missed extra point, the Torreys drove down the field, scoring on a spectacular 36 yard TD pass from Braxton Burmeister to David Wylie. Based on the way the two offenses were playing so far, it looked as though this back and forth scoring would go on for the rest of the game, but this one play was a huge turning point that ultimately won the Torreys the game. Brennan Goring got an interception for a touchdown at the beginning of the Arroyo drive that put Country Day up two touchdowns. The Knights never had the lead at any point, taking tremendous pressure off of the offense allowing them to do what they do best: making big plays.
Although Arroyo hanged in there, staying within two touchdowns throughout the game, Country Day simply dominated. After a few controversial penalties in the 4th quarter, the clock hit zero with a final score of Torreys: 63 Knights: 42.
The effect of home field advantage was very evident in this game, as Arroyo High School is had to travel two  hours from LA. There was also significantly more Torrey fans there. The home field advantage will also be in full effect for the final game this Saturday, as the Torreys are set to play the McClymonds Warriors, a small school from Oakland.