Pegasus: a decade old tradition
I had the pleasure to interview two very lovely ladies, Elaina Sassine and Posy Stoller, who are the 2016-17 editors of Pegasus. The three of us had a brief talk about the club and a piece of our conversation is below.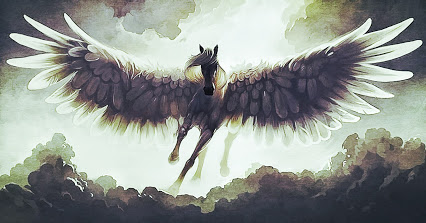 Yuqi: Could you explain to those who are not familiar with Pegasus, the what and why?
Elaina and Posy: Pegasus is a literary magazine that is an awesome opportunity for student collaboration. It is a record for students' creativity that can be looked back upon. It shows people the art that others had worked on during their free times and prepares you for the real life.
Yuqi: How often and when do you meet?
Elaina and Posy: We meet twice a month on Thursdays in room 204.
Yuqi: Who can submit their work to the Pegasus and how?
Elaina and Posy: Every student in the Upper School! Just email or talk to us!
Yuqi: How do you choose the submissions for the finalized magazine?
Elaina and Posy: Once we receive a submission, the editors and the staff get together and talk about its pros and cons. We then send the piece back to its author, maybe even sit down with the him or her. If we like it, after some editing, we put it in the magazine.
Yuqi: Why is it important for Country Day to have the Pegasus available to the students?
Elaina and Posy: Pegasus is an opportunity for individuals in the high school to share their work with other CD students (and their families), and to collaborate on a publication of the collective's work. It provides an insight into some the everyday realities of the students at our school. Its tough to let oneself be vulnerable, let alone to communicate that vulnerability onto a page, into a poem. The providing of Country Day for its students this decade old tradition is both unique and honorable. We're really excited to be a part of it.
Yuqi: Anything else that you would like to add?
Elaina and Posy: We also accept visual arts, short stories, plays, love letters, scripts, even things written in foreign languages, really anything that is flat and can be put in a magazine, so please submit your work! And by the way, no math homework, or AP bio essays.
Yuqi: It sounds like a wonderful opportunity to share our creativity. Thank you for your time!