Students plays recap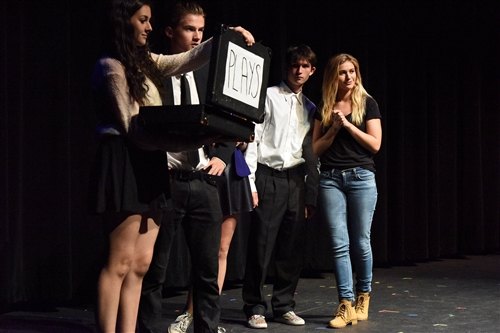 The 9th Annual Student Plays were a collection of plays written, directed, and performed by students. The plays these years were hilarious, thought-provoking, and intense. Here is a quick recap of each play.
"Instability" by Cameron Wilke
Cameron Wilkie wrote and directed a fascinating play about two young women joining the military. The story confronts difficult topics such as coming of age and PTSD. Definitely one of the most dramatic plays, audience members were thrilled by the aggressive moments and unique storytelling. It also featured what was definitely the greatest twist ending in the student plays this year.
"Procrastination PSA" by Lindsey Newland
"Procrastination PSA" was a very funny 'Public Service Announce­ment' on the dangers of procrastina­tion. It featured a lazy lady and a talking lamp. This was a perfect play for anyone who enjoys absurd humor.
"Wendi's Play" by Wendi Kan
This zany comedy was an important lesson on the importance of improv. In the play, a small group of students fight off a murderous crimi­nal using only improv-acting exercis­es. The improv itself was funny, but watching the students' complicated plan succeed was what tied the play together.
"Nina's Play" by Nina Khosla
This play tells the story of a young man who who would die in or­der to not take finals. Snappy humor dominates this play, with great per­formances from the three lead actors. Although all does not work out for the young man in the end, watching his ridiculous plan of faking his death to not show up to class almost work out was great entertainment.
"Train Thing" by Sonya Ad­jroud
Sonya's play was based off of real life experiences. It details a young woman riding a train, interact­ing with people from different walks of life. There are heartwarming mo­ments and fascinating conversations. Each passenger's story is unique, and provides great perspective on what many people have to go through.
"Excuses" by Jackie Gladden
Jackie Gladden's play is a funny and insightful play about a young woman avoiding a guy. The play involves the girl describing her dream boyfriend over the phone, in order the keep someone from pursuing her further. The dream man is por­trayed hilariously by Taelon Ratliff on the other side of the stage. This play was very honest, and a fan favorite.
"Malik's Play" by Malik Power
Malik Power's second play was a dark and intense look into drug addiction. It was filled with powerful lines and creepy moments. The play only had two actors, a suffering man and his addiction personified. It left viewers with a feeling of shock.
"Two Idiots, One Case" by George Little
George created a hysterical play about two detectives on their first case. It was witty, sharp, and goofy, and had people falling out of their seats. It had an elaborate story, and a large cast that all performed excellent­ly. The antagonist, "Dr. P.h.d. General President Mr. Charles Bad Guy Evil Dude Who Commits Crimes Man IV", portrayed by Charlie Sybert, was a fan favorite.
"Country Day" by Posy Stoller
In Posy's play, a prospective student is on a tour of a school with a bit of a western flair. Students start class at 4:15 AM, except on Wednes­days, and milk cows during milk break. The play is a hilarious take on the school we know and love.
"9/14/08" by Malik Power and Jackson Daugherty
9/14/08 was a hilarious play about a struggled attempt to bury a body. Two, dim-witted criminals, and a bunch of bags, were the stars of this story. It ended on a truly strange and silly moment.
"Fred's Funeral" by Jackson Daugherty
"Fred's Funeral" is a story about a young male named Fred who wants to fake his death so that he can attend his own funeral. In doing so, Fred approaches his doctor, who is not supportive of his idea. Fred tries to ex­plain to his doctor that he will attend the funeral dressed as a woman be­cause he wants to hear all of his loved ones talk about him for hours at his funeral. Jackson was able to produce a hysterical and bizarre play that left audiences confused, yet extremely satisfied.
"High Regicide" by Aidan Turek
"High Regicide", written and directed by Aidan Turek, is a witty story about a group of medieval char­acters that plot to kill the King. Aidan showed his charm and creativity through the hilarious text he produced and through the characters he created. Aidan's play was first play performed both nights and kicked off the 9th An­nual Student Plays exceptionally well.