The Perfect La Jolla Latte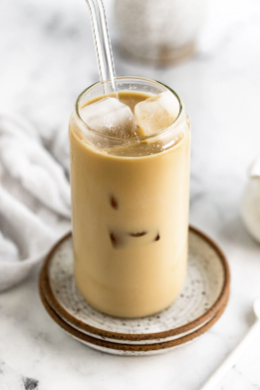 There are many different spots in La Jolla to fulfill your caffeine cravings. For two La Jolla Country Day Sophomores, Talia Silver and Kate Kelly, the journey for the best iced latte in La Jolla began at Starbucks and ended at Bird Rock Coffee Roasters. Silver and Kelly went to four shops and ranked each on the environment for productivity, social setting, and of course, the iced latte itself.
Starting the hunt for the best iced latte, Kelly and Silver went to the Bird Rock Starbucks, widely regarded as the most well known and reliable option. Although their selection can be jarring, their iced latte was a great first contender. The drink is neither too watered down or too rich and is perfect for a hot summer day, or for someone who has a preference for iced drinks. While the location was perfect for studying, the indoor space was limited. In the 'harsh' winter weather of La Jolla, this limited seating can be tough on customers. On the other hand, the staff is fantastic, fast, and kind, ensuring you have the best experience. The location is a perfect spot for studying and getting work done, but can also be a great place to catch up with an old friend. 
An even more impressive social atmosphere was at Brick and Bell Coffee in La Jolla Shores. Its location allows for  a perfect grab and go as the beach is right next door. There is not much seating inside or out, but there is a secret patio in the back, which  is great for homework and lets  locals get away from tourists. The coffee has always been a great contender and is ready to help you when you need a rush of caffeine.  
Better Buzz in La Jolla Village is a perfect staple when spending a morning by the cove. Its indoor-outdoor storefront is perfect for socializing and catching up. Although the iced latte has all of the flavors needed, the lack of ice can be upsetting, and extra ice is recommended. The latte itself is fantastic, but the environment makes it very hard for those who seek a quiet work space. Its location near the cove attracts many people and lines are constantly out the door. The lack of tables and indoor-outdoor setup can be aesthetic but also inconvenient. Despite these flaws, the coffee tops all others on the list so far.
Lastly, Kelly and Silver returned to Bird Rock for the La Jolla famous Bird Rock Coffee Roasters. Similar to Better Buzz, its indoor-outdoor appearance is perfect for a sunny day giving the option to sit in or outside. Bird Rock Coffee Roasters has the perfect study environment, however, its limited seating could pose a problem. If you go to study, make sure they do not have any performers. Sometimes they have live music, but it is mostly on the weekends. It's latte typically is stronger on caffeine, but has all the flavors that Kelly and Silver were looking for.
Once iced lattes from all locations were tasted, Kelly and Silver were ready to make a final decision. After taking all aspects into consideration, the best iced latte in La Jolla is from Bird Rock Coffee Roasters. After the first sip of their iced latte it became apparent that it was the clear winner. Its consistently perfect flavors, and its fantastic location near the beach, make it sit on top.