Funding Imbalances Between Varsity Sports
Every school year, La Jolla Country Day offers a variety of activities such as sports, plays, clubs, flexes, and other extracurricular opportunities. Arguably the most valuable activity to students is the 20 different varsity sports offered each year. While it is incredible how many Varsity sports teams LJCDS is home to, the decisions needed to be made about how funding is divided becomes more complex with the increase in sports teams.There are several factors that play into the distribution of money amongst the athletic department including the number of players, equipment required, alumni/family donors, and success in CIF championships. While this seems like a legitimately fair checklist,, I reached out to several high school athletes and discovered a major imbalance in funding between the sports.
Interviews with Maya Couey '24, a football player, and Kathleen McElroy '23, a field hockey player, reflect the differences in equipment supplied by LJCDS. Maya says the team receives "a helmet, two jerseys, three game pants, pads, knee pads, wristbands, practice pants and jersey top, two t-shirts, two shorts, and a mouthguard" while Kathleen says field hockey players get "tracksuits, socks, one t-shirt, and two uniforms (although the jerseys are shared with the lacrosse team)." Additionally, Ria Loomba '25 describes the equipment that volleyball players receive; "four jerseys, gym bag, tracksuits, one pair of spandex, socks, knee pads, t-shirts" and Max Feng '25 explains that the water polo players only get "a pair of speedos and the swim cap". Seemingly the differences in equipment and uniforms supplied are largely due to the specific amount that sport requires. However, field hockey disputes this theory. Each player requires additional equipment including a stick, shin guards, turf shoes, and mouthguards, all of which are not supplied by the school.
Skill level and winning record also appears to impact the funding offered to different sports. The LJCDS Women's Basketball team get "practice jerseys, 2 game jerseys, a basketball bag, warm-up jerseys, three – four pairs of new shoes, socks, ankle guards", says Anonymous '24. The team has been nationally recognized for years with several of the team committed to Division I colleges. Anonymous '25 says that they think "the Girls Basketball team have ea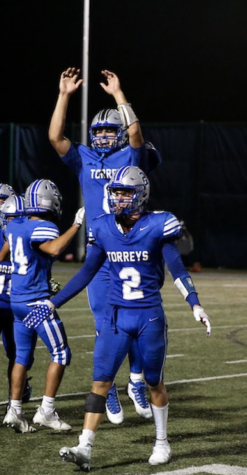 rned their funding and equipment but there is still a clear disproportion in funding". 
A survey of a handful of high school Torreys revealed that 90% of students agreed that there is a funding imbalance at LJCDS and 80% of  students think football is the most funded sport. Hopefully during our time at Country Day we will see a shift in the distribution of funding between the sports offered.
Image credits: La Jolla Country Day