Putting a microscope over recent college scandals
On January 15, 2022, a letter was sent to Mark Schlissel from the "Regents of the University of Michigan" (the University's "constitutional officers") informing him of his termination as the President of the University of Michigan. The officers said that they had "received an anonymous complaint regarding an alleged sexual affair between you [Schlissel] and your [his] subordinate" and found incriminating emails spanning several years. The board said that his behavior was "particularly egregious" because, in the past, Dr. Schlissel has "taken a public position against sexual harassment."   
Examples of inappropriate conduct cited in letter to Dr. Schilessel: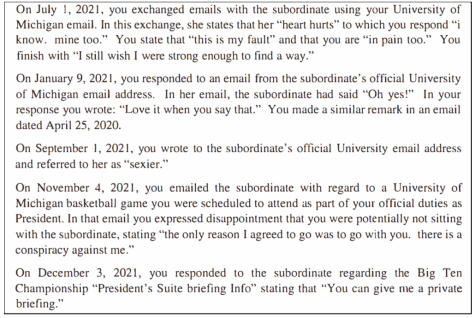 Source: University of Michigan, Letter to Dr. Schilessel 
Even prior to the anonymous complaint, Dr. Schilessel was on thin ice. Professor Rebekah Modrak, also from at the University of Michigan, "sponsored a successful faculty no-confidence vote against Dr. Schlissel in September 2020, primarily because of concerns about pandemic policies," and she said that the administration had also"not been sufficiently attuned to complaints about sexual assault and harassment on campus." After his firing, she said it was a "huge relief" because he was an "arrogant leader" and dismissive of "faculty concerns." 
Even though allegations of sexual misconduct in academia usually appear between professors and students, other allegations between a president and a subordinate colleague have been uncovered recently. In November 2021, the President of Georgetown College in Kentucky, President William A. Jones, was fired over "alleged inappropriate conduct including complaints he sexually assaulted a female colleague." Similar to Dr. Schilesssel, a student has claimed that President Jones had given promises about "sexual assault never happening and that it wasn't going to be a problem on campus" at the beginning of the school year. Both men made promises to take a stand against sexual assault and misconduct and then used their positions of power to inapporiately communicate with subordinate female colleagues, modeling behavior that promotes a victim-blaming culture on their campuses. 
Another ongoing sexual harrassment scandal in academia is from the Ivy League. Harvard University students Margaret Czerwienski, Lilia Kilburnm, and Amulya Mandava are suing Harvard University for how they handled the sexual harassment accusations against Professor John Comaroff, a Harvard University anthropology professor. They have accused the University of ignoring allegations of Comaroff's sexual harassment, allowing him to be inapproriately intimate with students, and making unseemly comments on rape, which are the "centerpiece of the lawsuit."
In their investigation, Harvard University has found that Comaroff had "engaged in verbal conduct that violated policies on sexual and gender-based harassment and professional conduct" but was not found responsible for nonconsensual sexual contact. Currently, he is still a professor at Harvard University but over three-quarters of Harvard's tenured Anthropology faculty have asked that he resign over the allegations. 
Cover photo credit: Bloomberg via Getty Images