Survival: Drew Robinson's Story and the Battle With Depression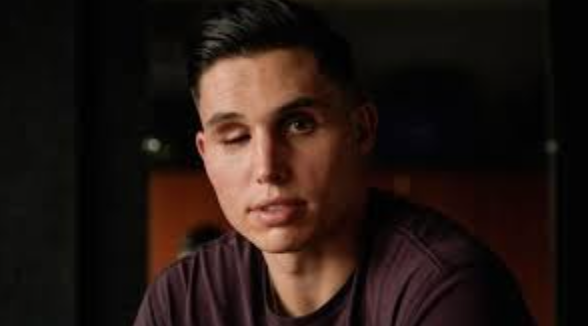 Trigger Warning: Graphic Details of Suicide
On May 11th, Drew Robinson, a minor league baseball player hit his first home run of the Triple-A season for the Sacramento River Cats, an affiliate of the San Francisco Giants. 
Professional baseball players hit home runs all the time. Drew Robinson's home run is special, however, because he has lost sight in one eye. Hitting a home run with one eye is impressive in itself, but Drew's hit is even more special because it should have never happened. Drew Robinson should be dead.
When Drew was seven years old, his mother, Renee, and his father, Darryl, divorced. During the divorce, Drew wondered to himself why his mom was mad at him and he wondered if it was his fault. Years later while attending Silverado High School in Las Vegas, Nevada, Drew was a star baseball prospect in a class that included current Major Leaguers Bryce Harper and Kris Bryant. He would go on to get drafted by the Texas Rangers. Despite his success, whenever Drew struggled, he would let negative thoughts creep into his head that told him he was not good enough.  These negative thoughts continued into his minor league career and served as a distraction from the positive things in his life. To cope with these negative thoughts, Drew met back up with his high school crush, Daiana Anguelova. They began dating and Daiana helped Drew get through all the negative thoughts every time he failed to reach the Majors. Daiana and Drew's relationship had been thriving for more than two years when Drew abruptly broke up with Daiana. 
According to ESPN, "He said, 'I don't know why you like me,'" Daiana said. "I was so shocked. In my head, I was like, 'What do you mean, you don't know why I like you?' I will never forget that. That was the first time something went off where I was like, 'Is there something deeper?'"
Robinson went on to achieve his lifelong dream of becoming a Major League Baseball player by being chosen for the Texas Rangers Opening Day roster. Despite his achievements, Robinson continued to struggle with negative and destructive thoughts.  Drew's negative thoughts intensified, and, according to Jeff Passan at ESPN, in January 2020, he had the first thoughts of ending his life. Then COVID-19 hit. COVID-19 forced Robinson to be alone with his thoughts without anyone to talk to and unable to play baseball. After years of negative thoughts and months of suicidal ideations, Drew purchased a handgun in order to end his life. On April 16, 2020, Drew Robinson woke up, ate breakfast, and finished writing a letter to his family about the decision to end his life. Drew Robinson, a man who was living out his childhood dream as a Major League Baseball player, hated himself and, even more so, he hated the fact that no one knew he hated himself.
That day, Drew grabbed his handgun and jumped in his truck to drive to a park where he had chosen to end his life. It felt wrong, so he turned around and drove home. Drew sat down on his living room couch and poured himself a glass of whiskey. Then, at 8 p.m., Drew grabbed his gun from the coffee table, held it to his temple, and pulled the trigger. Drew Robinson's story would come to an end in one swift motion. Or so he thought. A while after the shot, Drew Robinson looked around and wondered why he was still alive. He got off the bloody couch and lay on the hardwood floor and then took a shower. He dried off, brushed his teeth, put toilet paper in his nose to stop it bleeding, and fell into bed, believing he would not wake up in the morning. On April 17th, 2020 Drew woke up and finally felt the pain in his head. Drew found enough strength to walk to the kitchen and take Tylenol to help dispel the pain. He returned to bed and began to wonder if he could play baseball with one eye. Despite his attempt to end his life, Drew Robinson survived. 
Suicide is one of the leading causes of death in the United States. In June of 2020, the Centers for Disease Control and Prevention reported that 11% of American adults considered suicide, and suicidal thoughts among 18-24-year-olds were at an alarming 26%. May is Mental Health Awareness Month and Drew Robinson's story, how he is able to continue to play baseball after a battle with depression and a gunshot to the head, should be inspiring to those experiencing a similar battle. Depression is a serious issue that millions of people face every year and coping with depression only grew tougher with the enforced quarantine and isolation due to COVID-19.
When Drew Robinson realized that he was still alive and that he was not going to die, he knew he had a chance to start over and create a new story in his life. "I'm here for a reason," he said, according to ESPN. "I was supposed to tell a story." Drew survived in order to tell that story. After Drew rehabilitated himself and started his new life, he and his family began attending therapy sessions with a doctor associated with the San Francisco Giants team and had plenty of support from his teammates and the Giants management. 
If you are struggling with your own negative thoughts, Drew's story can serve as inspiration that there is always hope even when life feels worthless. Drew's story can also teach that it is okay to seek help and there is an opportunity to improve your life. Drew and his family leaned on therapy as a way to get through their struggles but talking to someone that you love can also be an effective strategy to discuss your problems. Drew Robinson's story is rare but let it be a reminder that no matter what you are going through, Drew Robinson survived and you can too.
If you or someone you know is having suicidal thoughts, please call the National Suicide Prevention Lifeline at 1-800-273-TALK(8255)
For more information on Drew Robinson's story, read this article: https://www.espn.com/mlb/story/_/id/30800732/san-francisco-giants-outfielder-drew-robinson-remarkable-second-act 
Sources:
https://www.espn.com/mlb/story/_/id/30800732/san-francisco-giants-outfielder-drew-robinson-remarkable-second-act 
https://www.espn.com/mlb/story/_/id/31393995/drew-robinson-makes-san-francisco-giants-triple-roster-losing-eye-2020-suicide-attempt
Cover photo credit: ESPN