Senior spotlight: Olivia Brass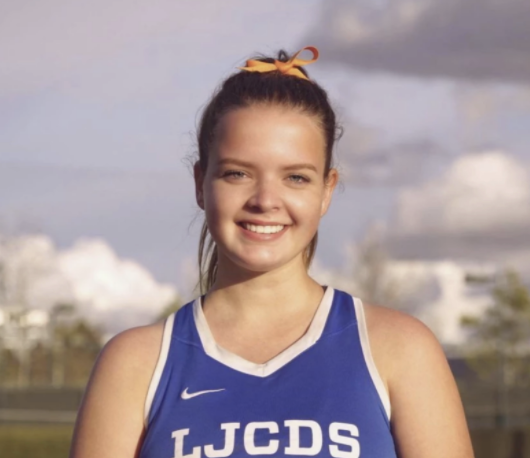 As we approach the end to a truly wild and one-of-a-kind school year, members of the Palette thought that it would be best to feature a graduating senior for our final student spotlight of the year. We believed this would be a chance to reflect on the challenges of the past year that were unique to seniors such as not having an in-person senior retreat, missing out on a final homecoming and prom, and not receiving a proper close to an athletic career with Country Day. It's also an opportunity to see how our seniors bounced back from these hardships and made the most out of their final year in high school.
We picked Olivia Brass for our senior spotlight because of the resilience she exemplified with her involvement in numerous activities, despite the pandemic. Olivia has been at LJCDS for five years, and she was able to sit down with us and share what she learned during her time here before graduation. All of her accomplishments, experiences, and connections she made with other people demonstrate how one both builds unforgettable relationships and becomes a better scholar, artist, or athlete during their journey at La Jolla Country Day. 
Interview:
Palette: Hi, thank you so much for agreeing to do this interview. We think it's a great chance for people to get a more personal insight into the senior experience from this past year.
Olivia Brass: Of course.
P: Well to start, how do you feel right now knowing that graduation is just around the corner?
O: Honestly, it's really weird. I had my last set of classes for A day today, and it was really sad saying goodbye to people. But, I've felt ready for college for a while, and I'm excited to be done and not have responsibilities for a couple of months. But it's definitely sad because I feel really close to a lot of teachers and people here. Still, it's mostly excitement.
P: This year was especially hard for seniors because many of the activities that define one's final year in high school were cancelled. What were some of the biggest challenges for you?
O: Well since I didn't grow up here, I was never really looking forward to senior year as much because it's not a big thing in England. So, everything we got this year felt extra to me anyway. [For example,] there were a bunch of senior lunches which were nice. But it [still] definitely sucked not being able to enjoy the friendships that have become so cemented this year. My parents were incredibly strict about the pandemic, and I did not really have a social life for the past year. It just kind of sucked to miss out on that. But there were a lot of people in worse situations, so I did okay.
P: How did you still find opportunities to make the most out of senior year?
O: I think we were pretty lucky with sports. Field hockey was one of the first things to start [back up]. I had the play too (The Laramie Project). I was really lucky to be involved in so many things that carried on. As soon as field hockey started, we had the play, then lacrosse, and then the choir concert, and all these things started happening. I also really enjoyed my classes. Most of the first semester, when we were online, I just really tried to stay engaged and enjoy what we were learning. This way, I didn't go insane. 
P: Is there any advice that you would tell your younger highschool-self, maybe for any underclassmen out there?
O: I have to think about that for a second. One thing is that the all-nighters are not worth it. I think a lot of people don't realize how well you can do in school, even if sometimes you don't get an assignment done on time. I'm not saying you should do homework late, but I think that especially sophomore year I pushed myself way too hard and struggled a lot mentally. I felt as if I had to get everything done on time, all the time. I probably would've gotten the same grades if I had just taken care of myself more and gotten to sleep on time. So, I think being a little less hard on yourself is definitely something I'd tell my younger highschool self. 
P: What are some of the experiences that you are most proud of or cherish the most from your time at La Jolla Country Day?
O: It's hard because everything I've been involved in has meant a lot to me. I've really loved my sports teams, and being able to be a leader on those teams is something I really cherish. Also, everything I've done with community service has meant a lot to me, especially the Orange Game*. And with music, I love my madrigals class and Miss Becker. All the performances have always been so fun. I kind of just loved everything.
*One of Olivia's legacies at LJCDS is the annual "Orange Game" fundraiser she organized for the field hockey team as a sophomore. The event raises money and awareness for Leukemia, and gives its funds to the Leukemia and Lymphoma Society. This past year, the Orange Game raised over $3,000.   
P: How have the people here, students and faculty, made an impact on you? Will these relationships carry on beyond graduation?  
O: Absolutely. I mean the amount of teachers here that have shown me so much kindness and support over the years is insane. Since we're finishing school tomorrow, I'm thinking about all the notes that I need to write to people. There are just genuinely so many different people that I feel like I need to thank. And, yeah, I feel the need to come back and visit. I know that my brother, when he graduated, said that he probably never would [come back and visit], but I feel like there are definitely people that I want to come back and see.
P: If you had to thank or shout-out one teacher, coach, or faculty member for what they contributed to your experience at Country Day, who would it be and why?
O: Hmm, that's so hard. I think Dr. Parish. She was my advisor for the past four years as well as my AP Lang teacher this year. She truly has so much to teach because she's a professor at USC. She has so many amazing connections, [including] the speakers she has brought. The insight she gives is really valuable. But, she's also just a really great person to talk to and to hear stories from. She has been to many places that are so interesting to hear about. So I'd have to say her.
P: From your time at Country Day, is there anything you'd want to see changed regarding the experience of students?
O: I think Country Day is always moving in the right direction, and I don't have any major complaints. I feel like they're always actively trying to improve. I do think [though], that the administration could spend more time listening to students instead of parents, considering we're a school and not a business. But, yeah, that's all I'm going to say on that. 
P: What's one thing you'll miss the least from La Jolla Country Day?
O: Not to be cliche, but the food.
P: The most?
O: I think it'll be the sports teams because I don't know if I'll get that same vibe in England. Sports are so much bigger in America for college. So I'm sad to leave that because there's not going to be game days or anything [in England]. I wasn't really a big athletic person before I came to America, but then I really got involved in sports and I really enjoy them here. So, I feel that I'll miss going to football games and other sporting events the most.
P: Lastly, I know it's quite early for this, but what do you imagine you'll be doing five or so years down the road, maybe after college?
O: I always thought I'd be going into journalism, but I'm not so sure about that anymore. I think it'll be something artistic, or that has to do with writing or creating. But I mean in five years? I'd like to think that I'll have traveled a bit right after college. So maybe that too.
P: Well, thank you so much for your time, and for giving really meaningful answers. These will no doubt provide value to all LJCDS students, regardless of what stage they're at in their journey at our school.
O: Thanks Varun.     
 Next fall, Olivia Brass plans to attend either the University of Birmingham or Cardiff University, both of which are in the UK. She will study English Literature and Creative Writing.
Cover photo credit: La Jolla Light