Reopening and commotion on Broadway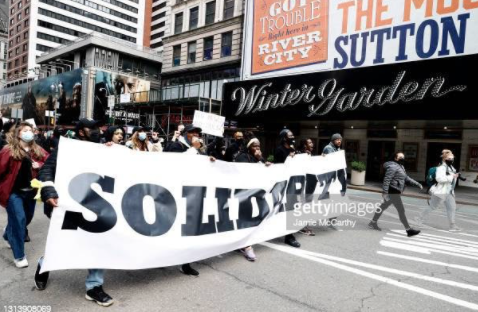 On May 11th, it was announced that some Broadway shows, such as Lion King, Hamilton, and Wicked, are returning to New York theatres at full capacity on September 14th. Musicals like Phantom of the Opera, Come From Away, Chicago, and Tina: The Tina Turner Musical have even started selling tickets and releasing detailed schedules following the return date. Also, some musicals, such as Moulin Rouge, are allowing theatre-goers who purchased tickets for shows that were canceled during the pandemic to have first access to the tickets. Some are worried that this zero-to-one hundred approach to the theatre reopening could fall through and be detrimental to the box office, performers, and theatre staff. Others are concerned that the calls for change made by the New York theatre community will fall through the cracks, and the issues they brought up with the Actors' Equity Association of Broadway will not be addressed. 
It has definitely been an interesting year for Broadway performers. In March 2020, theatres across the country were quickly shut down, and there was no telling when they would reopen. While a few television and film projects were lost to the pandemic because of economic pressures on studios and filming issues, film and television productions were mostly able to come back and start filming again around September of last year. Meanwhile, Broadway performers were still anxiously waiting to perform live again. Broadway occasionally released a date when they thought that performances might come back, but everything was tentative and no dates stuck. As live sporting events began to return towards the end of last year and the beginning of this year, it was a difficult pill to swallow for the Broadway performers and workers, who had been out of work for almost a year. 
Through this year of turmoil, Broadway workers and performers have been vocal in their activism in a variety of ways. In June 2020, Broadway voices spoke out against racism in the industry. For instance,  Broadway writer and artist Griffin Matthews posted an Instagram video detailing racist treatment he had endured throughout his career entitled "Dear Amy Cooper: Broadway is Racist." Members of the theatre community have spoken out about their ill-treatment and have called for a more diverse, inclusive theatre environment with more people of color as performers, tech crew, and production crew, which too often are made up of all white men. 
Around the same time, a question on a Facebook page about Pace University Musical Theatre Department's absence of support of the Black Lives Matter protests led to an overflow of replies from students and alum detailing their own racist experiences within Pace's musical theatre program. The "See Our Truths" campaign was created by current and former African American students to share stories of the racism that they experienced within the program, more specifically from Amy Rogers, the head of the program, and JV Mercanti, her assistant. Thanks to this campaign, both Rogers and Mercanti were fired and officials at Pace stated that they were "committed to making a systemic change." With the returning date of Broadway set for September 14 and the chance of university classes being more in-person than the 2020-2021 year, both performers and students hope that the activism will actually bring about real and sustained change in the musical theatre community and industry. 
More recently, Producer Scott Rudin had to "step back" after multiple allegations of bullying, harassment, and emotional and physical abuse over the years. On April 22nd, the first "March on Broadway" was held to call out the systemic sexist, racist, and unsafe work environments that are aided by the abuses of producers such as Rudin. The rally was also held to call for the Actors' Equity Association to enforce change, with protestors chanting "No News, No Dues, tell Equity F*** You!" outside of the Association's office in Times Square. Speakers at the rally demanded to know how the Union is working with BIPOC organizations and called for more opportunities for people of color, LGBTQIA+ artists, and disabled and deaf artists in the industry when reopening occurs in September.  A week before the rally, Karen Olivo stepped down from her leading role in Moulin Rouge, stating that the "industry is broken," and that "those with purse strings need to do a little more listening and less delegating." 
As we start to see the harshest Covid-19 restrictions begin to lift and Broadway starting to reopen, there will be a strong push for things to go back to "normal," but if this year has taught us anything, "normal" on Broadway just isn't good enough. Performers and students alike both hope that the industry and university programs will stick to their word and take this opportunity to implement real change within the theatre community.
Cover photo credit: Getty Images