Class of 2021 senior reflections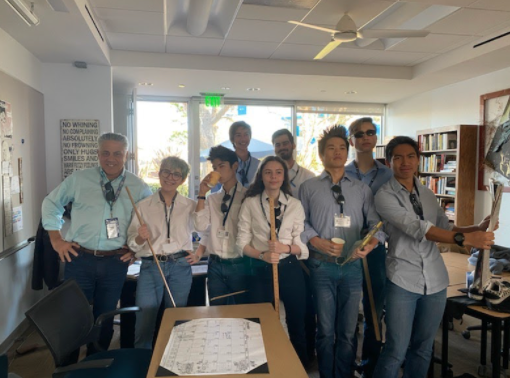 With the school year coming to an end, The Palette took the opportunity to interview outgoing seniors about their high school experiences. We wish them the best of luck as they embark on their collegiate experiences next fall. Hopefully, we will see them back on campus soon!
What is your favorite high school memory?
Walter Chen: Last year, during one of the spirit weeks, we had a twin day. I remember dressing up with nine other juniors as Mr. Peritz. We all walked around with khakis, button-up T-shirts, silver hair-paint, lanyards with Country Day IDs, and carried meter sticks. It was the funniest thing ever, and it felt really powerful pretending to be Mr. Peritz.
Amara Parker: Freshman year, someone brought hot peppers into geometry class. We started competing to see who could keep the peppers in their mouth for the longest. Someone ate the whole pepper and didn't say anything. They had the hot pepper in for a long time, which caused their face to turn red and tears to roll down.
Anna Sassine: One of my favorite high school memories was when I performed poetry at LJCDS's Spoken Word my junior year. I started writing poetry sophomore year, and I never predicted I would perform it in front of 100 strangers, but then, on a whim and with some advice from a famous poet visiting our school, I decided to sign up that day. When I finished performing and I heard that moment of silence right before the applause, my passion for poetry was solidified.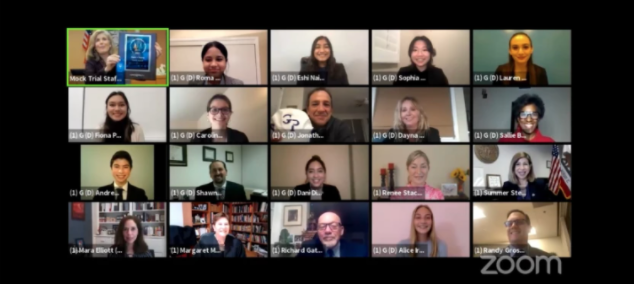 Photo credit: La Jolla Light/LJCDS
Lauren Miller: My favorite high school memory was competing in the mock trial championships. It had been such a collective effort because we all put so much work and time into preparation. We supported each other so much throughout the process of competing in the county championships and all of the competitions that led up to it despite all of the difficulties over Zoom. When they announced that we had won the [San Diego] County Championship, everyone was in such disbelief. It was such a special moment to share with all of the supportive administration, alumni, faculty, and team members. 
Taylor Wassel: My favorite high school memory is definitely the meet days for Swim & Dive. I loved getting pumped up with the team before the competition at school and on the bus.
What advice do you have for incoming freshmen?
Walter Chen: Try anything. Try everything that you want to. High school is the first chance where you really get to explore different opportunities. It is a pretty safe place to do that. There are really no consequences for failing at anything you try. So, just do it. You may discover new things about yourself.
Amara Parker: Look at the people that you surround yourself with. Make sure that you are your best self around them, and they bring out the best self in you. Also, do not take one test or one class too seriously. Truly understanding the material and the concepts is much more valuable than trying to get a grade for the sake of it.
Ashley Lee: Freshman year is the time where you have to dive in and explore different avenues to find what your passions are, what you think you are really good at, and what you think you will enjoy five to ten years in the future. For me, I tried exploring different clubs. I ended up finding mock trial and orchestra, which I continued throughout all four years. Freshman year is that time to explore and find your place in the LJCDS community. Then, sophomore, junior, and senior year are the times to solidify your interests. 
Anna Sassine: Communicate with your teachers. You will run into many roadblocks over-scheduling wise or mental-health wise in high school and turning in assignments on time could become difficult. It will be helpful for your grades and sleep schedule to be allowed that extra time. Your level of effort and ability will improve. 
Taylor Wassel: Do not procrastinate. It is probably the biggest thing that I wish I did not do, especially in senior year. Starting freshman year, it is important to get work done on time and manage your schedule.
Andrew Kuhn: Join as many clubs as you can as a freshman. It doesn't matter if you don't like it, as you can always drop a club. You'll never find the clubs that you have a passion for unless you join as many as you can and then find the ones that really suit you. I really enjoyed the Academic League, mock trial, and cross country for all four years. While those may not have been things that I knew I would enjoy from the time I was a freshman, I may never have had these experiences or met new people if I had not tried out those clubs. 
Sam He: Don't expect freshman year to be easy and use Office Hours. Teachers at Country Day are really willing to help, and Office Hours is great to ask questions about concepts you are confused about. I also used my free blocks to do homework, especially because of sports commitments after school. Teachers are so welcoming when you go in to ask for help.
Where do you see yourself in ten years?
Anna Sassine: All I can hope is that I'll still be following the passions I have now. I want to be in the Middle East, specifically working on the Israeli-Palestinian conflict. Maybe I'll take the Foreign Service test and become an actual representative or work in the UN. I also hope to continue to write and study anthropology. Mainly, I want to be happy. 
Ashley Lee: I want to be stepping my toes into law. I want to be a cultural lawyer, or a lawyer who works with museums, specifically studying the law that goes behind loaning and presenting artifacts, partnerships between museums, and contracting. I also want to teach kids to some degree, specifically interact with high school students, to help them figure out their way in life. I think it would be interesting to be close with a new generation of students. 
Amara Parker: I will probably be in med[ical] school, graduate school, or trying to get my Masters in Public Health. I may be working in a biotech or consulting firm. Hopefully, I have traveled or started to learn another language. 
Sam He: I see myself passing most of my actuary exams. I will probably still be on the East Coast. I may be recently married. I hope that my job will be going well, and I will almost be at the point where I am getting a managing role. At some point, I would like to move back to San Diego. 
Andrew Kuhn: I want to have graduated from college. I want to be working in something that I enjoy, potentially a startup. I think that it would be interesting to be working with new technology and being on the cutting edge. Maybe I would be married or have a family. I definitely want to have pursued a career and found something that I am passionate about and enjoy. 
Lauren Miller: I see myself having gone to law school after graduating from college. With a law degree, I am not sure the exact area that I want to go into. I do know that I am very interested in education, public policy applications with a law degree, journalism, or possibly being a defense attorney. I am just really passionate about the law and helping people. I want to do a job where I know that every day, I am doing my best to make the world a better place and impact people in the most positive way possible. 
Cover photo credit: Walter Chen