The fight for abortion rights in Poland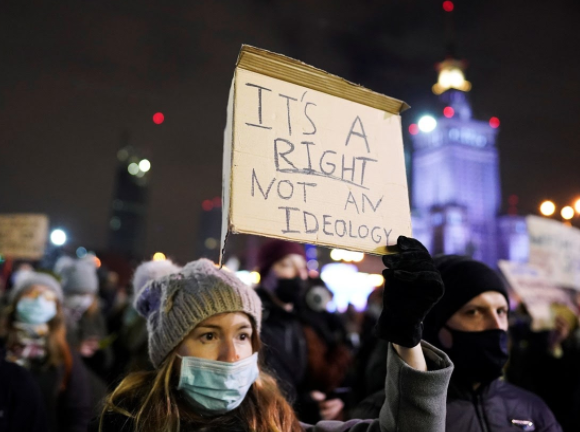 On January 27th of this year, Poland officially imposed new regulations on receiving abortions, essentially imposing an almost complete ban of any abortions except in the cases of rape, incest, or if the woman's life is in danger as a result of pregnancy. Although the Polish government had already been discussing whether to implement the ban since October of 2020, months of protests delayed their decision, thus shocking many when they suddenly announced that the ban would immediately go into effect in late January. Despite prohibition of large gatherings due to COVID-19 concerns, protests have continued throughout Poland in response to the ban, led by the rights group known as Women's Strike. In fact, these protests are the largest protests to occur in Poland since the protests against communism about thirty years ago. During a large protest at the country's capital of Warsaw, protestors carried signs that read powerful statements like "Abortion is my right" and "This is war," declaring that "women's rights are being trampled" by these strict regulations.
Despite widespread outrage from Polish citizens, the government has stood firm on its ruling. The Law and Justice Party, Poland's current ruling party, has been in control since 2015, and has built a reputation of conservatism and maintaining traditional Polish values. The government also has close ties to the Catholic Church and has justified its decision on both conservative and religious grounds, arguing that "an unborn child is a human being." As a result of this conservative outlook, Poland has garnered the reputation as having some of the most limited abortion laws in all of Europe, with only about 1,000 legal abortions carried out each year. An estimated 200,000 women are forced to travel outside of Poland to have an abortion or find some illegal means to achieve what they can't in their home country. In 2016, the party attempted to pass laws that would greatly discourage abortions on all accounts, and even suggested imprisoning women seeking abortion as well as doctors that were willing to give them, as well as investigating miscarriages. Protests in response to the potential legislation eventually prevented it from being passed. However, the Law and Justice Party has taken steps in the past couple of years to strengthen their legislative power, including imposing more control over the Constitutional Tribunal, the court system in Poland that is designed to ensure legislation complies with the constitution. Currently, fourteen of the fifteen judges in the Tribunal are loyal to the party, thus making it almost impossible that any legislation working against the party's decisions would be passed, including decisions on abortion rights. Thus, the government took advantage of their powerful position and were able to successfully ban abortions due to fetal abnormalities and deem them unconstitutional. Since 98% of abortions in Poland are done due to severe fetal abnormalities, this ruling has rendered most abortions in Poland nearly impossible to receive.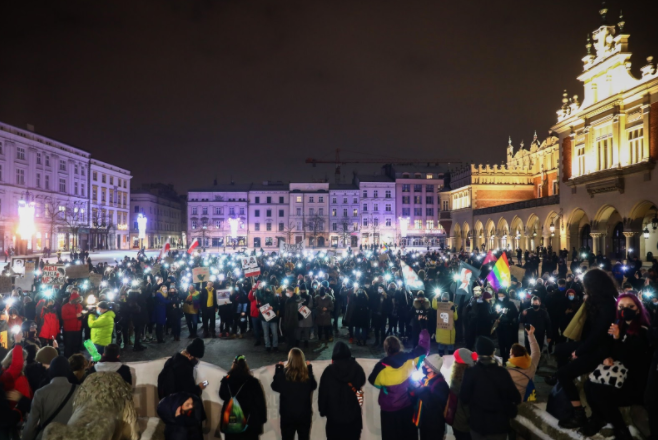 Photo credit: Zawzrel/NurPhoto, via Getty Images
The party has also sparked widespread outrage in the past five years for their harsh stance against many human rights issues beyond abortion rights. For instance, the party has been called out for repeatedly attacking their LGBTQ+ population. Current Polish President Andrzej Duda called the LGBTQ+ rights movement "an ideology" that he believes "is even more destructive to the human being" than communism. In addition, many regions across Poland have transformed themselves into "LGBTQ_-free zones," in which state and local laws attempt to discourage homosexuality and encourage "traditional family values." Many of the protestors against the new abortion policy are also LGBTQ+ and climate change activists.These protests go beyond the issue of women's rights, and are drawing the support of those advocating for human rights for other marginalized groups. Many of these protestors see the latest government ruling as yet another assault on their liberties, and are taking this opportunity to make their voices heard as well.
In addition to receiving extensive attention within Poland, these protests have caught global attention as well. For instance, the Freedom House Index, an organization that researches and advocates for democracies around the world, no longer considers Poland a "full democracy," instead deeming it a "semi-consolidated democracy." Poland's relationship with the European Union has also weakened in the midst of these controversial rulings, and there has been some concern over what their relationship may look like in the future. It is currently unclear if these mass protests will result in any change to the government's ruling, but it is clear that the people of Poland who believe in these rights refuse to stand by in silence, and will most likely continue protesting to make their voices heard. 
Sources:
Vox. (2020, December 8). Why Poland is having huge protests [Video]. YouTube. https://www.youtube.com/watch?v=wmSXB7ukH4M
(n.d.). Retrieved February 01, 2021, from https://www.bloomberg.com/news/articles/2020-06-13/polish-president-calls-lgbt-ideology-worse-than-communism?sref=XNB4Nygj
(n.d.). Retrieved February 01, 2021, from https://www.bloomberg.com/news/features/2020-11-22/lgbtq-news-homosexuality-makes-you-enemy-of-state-in-poland
Countries and Territories. (n.d.). Retrieved February 01, 2021, from https://freedomhouse.org/countries/nations-transit/scores
In Poland's 'LGBT-free zones,' existing is an act of defiance. (n.d.). Retrieved February 01, 2021, from https://www.cnn.com/interactive/2020/10/world/lgbt-free-poland-intl-scli-cnnphotos/
Kaminski, K., Mortensen, A., & Smith-Spark, L. (2021, January 31). 'Women's rights are being trampled:' Voices from a protest march in Poland over near-total abortion ban. Retrieved February 01, 2021, from https://www.cnn.com/2021/01/31/europe/poland-abortion-law-protests-intl/index.html
Kwai, I., Pronczuk, M., & Magdziarz, A. (2021, January 27). Near-Total Abortion Ban Takes Effect in Poland, and Thousands Protest. Retrieved February 01, 2021, from https://www.nytimes.com/2021/01/27/world/europe/poland-abortion-law.html
Mortensen, A. (2021, January 28). Poland puts new restrictions on abortion into effect. Retrieved February 01, 2021, from https://www.cnn.com/2021/01/28/europe/poland-abortion-restrictions-law-intl-hnk/index.html
Poland enforces controversial near-total abortion ban. (2021, January 28). Retrieved February 01, 2021, from https://www.bbc.com/news/world-europe-55838210
Poland: Heading Towards 'Polexit'? (2021, January 23). Retrieved February 01, 2021, from https://globalriskinsights.com/2021/01/poland-heading-towards-polexit/
Ryzak, C. (2020, September 28). The Law and Justice Party's Moral Pseudo-Revolution. Retrieved February 01, 2021, from https://www.dissentmagazine.org/online_articles/the-law-and-justice-partys-moral-pseudo-revolution
Suliman, A., & Galica, L. (2021, January 30). Abortion law protests in Poland put civil liberties in the spotlight. Retrieved February 01, 2021, from https://www.nbcnews.com/news/world/abortion-law-protests-poland-put-civil-liberties-spotlight-n1256252
Cover photo credit: Aleksandra Szmigiel/Reuters