NBA Finds Success With COVID-19 Bubble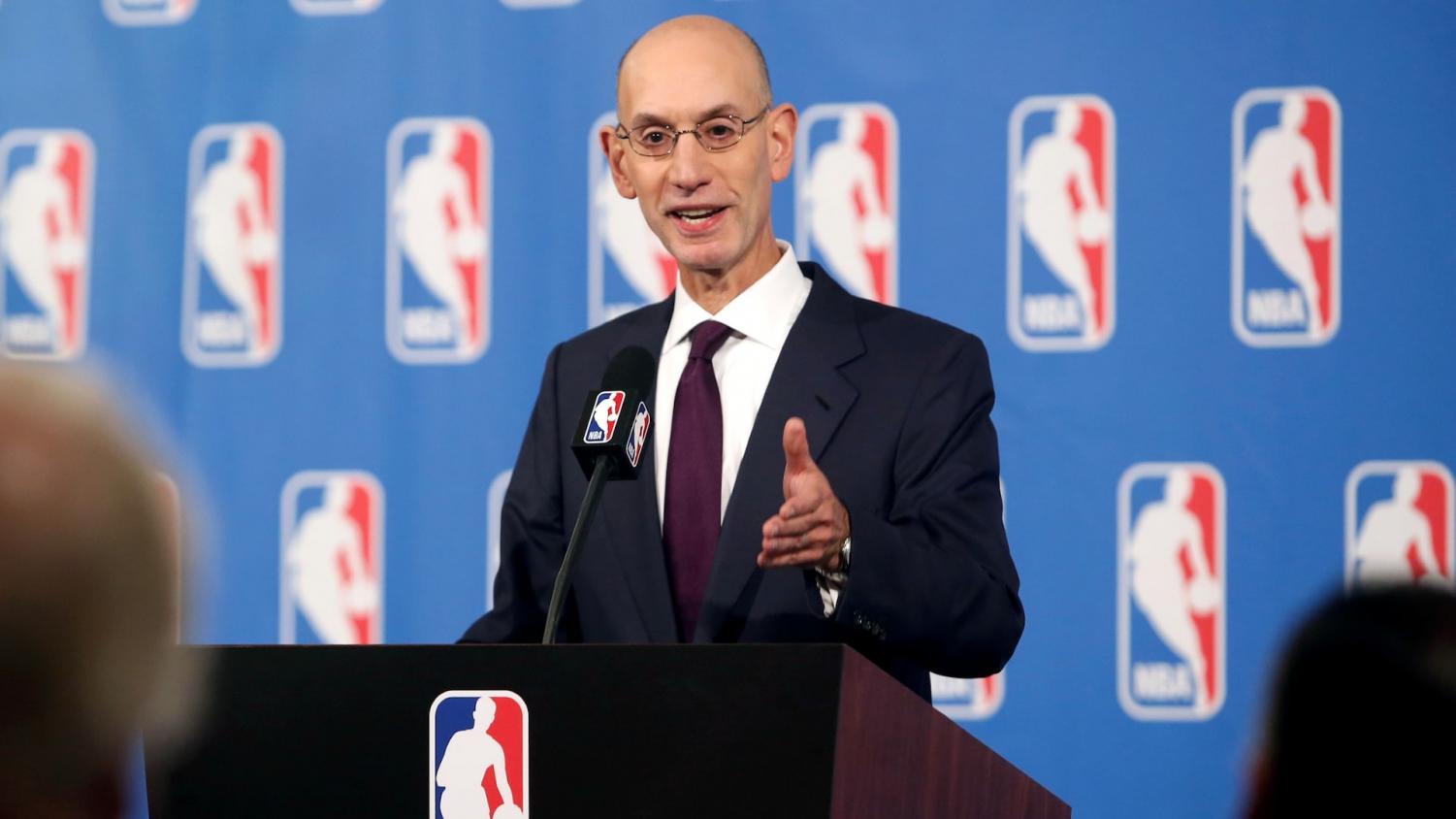 With the National Basketball Association season over and the Los Angeles Lakers hoisting the Larry O'Brien Trophy, many important figures around the country are celebrating the NBA and its historic achievements during this unprecedented season. Photo Credit: www.nba.com
When the COVID-19 pandemic hit the United States in March, many figures, including Dr. Anthony Fauci, the United States' top virus expert, criticized President Donald Trump for his handling of the virus and his failure to act in a swift manner. While some Americans believe that Trump and his administration did their best to contain the virus, many others believe that they failed to listen to the experts in Washington D.C. and put millions of lives at risk by not strictly enforcing stay at home orders, mask mandates and economic shutdowns. 
While our state governments in response to the virus chose to shut down businesses and other essential parts of life, in the pandemic, every major American sport was tasked with making a decision whether to postpone or cancel their season, leading to huge revenue losses and an uncertain future. The National Football League had just concluded their season, so coronavirus concerns were to be dealt with in the future, but other sports like the NBA and Major League Baseball were in the middle of, or just beginning, their seasons, creating debate and panic among fans and the leagues alike.  
After COVID-19 forced the NBA to halt its season in March, NBA Commissioner Adam Silver sent a letter to fans encouraging them not to worry about the status of the season. "As you know, we have temporarily suspended our season in response to the coronavirus pandemic," Silver wrote. "We made this decision to safeguard the health and well-being of fans, players, everyone connected to our game and the general public. This hiatus will last at least 30 days and we intend to resume the season, if and when it becomes safe for all concerned." 
Silver ended his letter with a hopeful message to fans, telling them to come together and to look out for each other. "This remains a complicated and rapidly evolving situation that reminds us that we are all part of a broader society with a responsibility to look out for one another," Silver wrote. "That is what the NBA will continue to do, and we are grateful for your understanding and for being the best fans in sports."
While many people, including San Antonio Spurs head coach Gregg Popovich, believe that Commissioner Silver showed immense leadership in his handling of coronavirus concerns, others, like CEO of Granahan McCourt Capital, David McCourt, think that President Trump failed to understand the severity of the situation, which by December 2020 has claimed the lives of more than 300,000 Americans.  
Popovich had high praise for Commissioner Silver, "I think it's a great example for the country," he said. "No. 1, our leader had a vision, knew how to organize, did it efficiently. And the participants, unlike many of our citizens, have been very disciplined about reaching this goal and coming together for a common purpose."
Popovich, while not mentioning President Trump by name, contrasted his praise for Silver with disappointment in America, "We can just look at our country and realize that from the top, we don't have that ability to organize for all the reasons we know," Popovich said. "As a population, you worry about the fiber of our country to some degree because we just don't have the discipline."
Along with Popovich, David McCourt, founder and CEO of Granahan McCourt Capital, was not pleased with the President's handling of coronavirus, "I just think it has been awful, in my personal opinion, for the country and for the world," McCourt said. "It has not been clear, it hasn't been backed up by science, [Trump] is not consistent, he doesn't seem to be empathetic."
Throughout the year, President Trump has said that COVID-19 affects "virtually nobody" and that it is no worse than the flu. He also said that it will go away "like a miracle" and he chose to ignore the recommended guidance to wear a mask to prevent the spread of the virus. 
Silver met daily with scientists, including Dr. Fauci, to discuss how to control the virus and protect players and NBA personnel and had conversations with players on how they thought they should continue the season. The NBA decided to create a bubble at Disney World in Orlando, Florida that allowed the games to continue in one isolated zone to prevent travel and helped players quarantine by themselves in the resort's many hotels. Players and personnel from 22 teams along with members of the media were tested regularly, had to isolate in their hotel rooms for 48 hours or until they received two negative COVID tests, and were not allowed to leave the bubble. To keep the bubble even safer, no non-essential people were invited, including family members, to help prevent the spread.
From July 7th until October 11th, the NBA and its 22 bubble teams played 172 games across 3 arenas and had zero positive COVID-19 tests, despite having 6,500 staff and over 300 players, personnel, and members of the press. After Lebron James and the LA Lakers defeated the Miami Heat in the Finals to end the four-month bubble, Adam Silver and his team received high praise from NBA fans and personnel on Twitter.
One Twitter user, Elika Sadeghi, had high praise for Silver while also calling out President Trump for his supposed lack of response, "Never forget Adam Silver navigated 2020 a hell of a lot better than our useless excuse for a POTUS." 
Stan Van Gundy, former NBA broadcaster and newly hired head coach of the New Orleans Pelicans also commended who some people call sport's best commissioner. "Congratulations to the Lakers and Heat," Van Gundy tweeted, "and to Adam Silver and the entire NBA staff for pulling off one of the greatest feats in sports history-finishing an NBA season in the midst of a pandemic with 3 months of virus free basketball. I didn't think it could be done."
Despite the success of the bubble, the NBA did incur a few problems, most notably, their players' mental health. Paul George, a small forward for the Los Angeles Clippers, and one of the leagues' best players had a huge collapse in the playoffs where he struggled to hit key shots and ultimately failed to help his team win a championship. When asked about his struggles, George faced his problems head-on and revealed the truth.
"I underestimated my mental health," George said, "I had anxiety. A little bit of depression. Us being locked in here, I just wasn't there. I just checked out." 
In response to George opening up about mental health, Danny Green, a point guard for the Los Angeles Lakers, agreed with George. "I know exactly what Paul is going through," said Green, "You have nothing to do but look at your phone and social media all day. All they are doing is bullying you. They are trying to get you to play well. So he was going through a rough stretch. I'm sure doors were closing in on him, and it was getting dark for him."
Along with some of the NBA's best players struggling with mental health issues, the league itself suffered significantly. In order for the bubble to start in the first place, the NBA spent $180 million and suffered a $1.5 billion revenue loss due to the months of hiatus due to the start of the pandemic. Overall, the NBA was successful in preventing the spread of COVID-19 by having zero positive tests in three months, but lost billions of dollars from missing ticket and merchandise sales along with the cost of bubble operation and players underperforming because of stress and anxiety from being away from their families.
Throughout 2020, America has suffered devastating losses from the coronavirus. The NBA however responded with a novel approach that shows that with some ingenuity life does have to halt completely as we wait for the pandemic to end.
Works Cited
Leitch, Will. "The U.S. Government Could Learn a Lot From the NBA."

Intelligencer

, Intelligencer, 18 Aug. 2020, nymag.com/intelligencer/2020/08/the-u-s-government-could-learn-a-lot-from-the-nba.html. Accessed 29 Nov. 2020.

Lashinsky, Adam, and Brian O'Keefe. "How the NBA Kept the Bubble from Bursting."

Fortune

, Fortune, 15 Oct. 2020, fortune.com/longform/nba-bubble-2020-orlando-florida-disney-covid-19-coronavirus-pandemic-los-angeles-lakers-lebron-james-basketball/. Accessed 29 Nov. 2020.

‌Lauletta, Tyler. "Adam Silver Writes Letter to Fans after Coronavirus Stoppage – Insider."

Insider

, Insider, 13 Mar. 2020, www.insider.com/adam-silver-letter-to-fans-coronavirus-suspension-2020-3.  Accessed 29 Nov. 2020.

Mcilkenny, Stephen. "Donald Trump Coronavirus: Trump's Most Notable Quotes about Covid 19."

HeraldScotland

, HeraldScotland, 3 Oct. 2020, www.heraldscotland.com/news/18768112.donald-trump-coronavirus-trumps-notable-quotes-covid-19/. Accessed 29 Nov. 2020.

‌Medina, Mark. "Challenges of Isolated Life in the Bubble Add to NBA Players' Playoff Stress: 'I Just Checked Out.'"

USA TODAY

, USA TODAY, 8 Sept. 2020, www.usatoday.com/story/sports/nba/2020/09/07/nba-players-grapple-with-mental-health-inside-nba-bubble/5742849002/. Accessed 29 Nov. 2020.

Trump, Donald J. "Donald J. Trump | The White House."

The White House

, The White House, 2015, www.whitehouse.gov/people/donald-j-trump/. Accessed 3 Dec. 2020.

Owens, Jason. "Gregg Popovich Touts NBA Bubble vs. U.S. Leadership as League Reports Zero COVID-19 Cases."

Yahoo.com

, Yahoo Sports, 5 Aug. 2020, sports.yahoo.com/gregg-popovich-touts-nba-bubble-vs-us-leadership-as-league-reports-zero-covid-19-cases-214307792.html. Accessed 12 Jan. 2021. 

Smith, Elliot. "Trump's Coronavirus Leadership Has Been 'awful' for the US and the World, US Entrepreneur Says."

CNBC

, 27 Apr. 2020, www.cnbc.com/2020/04/27/mccourt-trumps-coronavirus-leadership-awful-for-us-and-the-world.html. Accessed 12 Jan. 2021.