Ideas for social distancing activities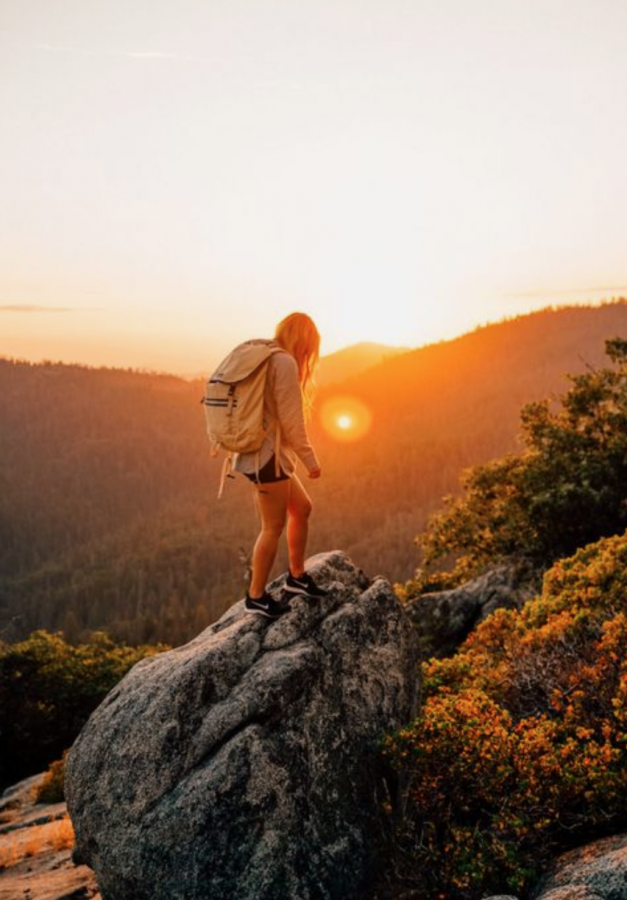 Danielle Amir-Lobel, Editor-in-Chief
May 3, 2020
As COVID-19 has us all staying at home all day, binging shows about people covering their spouses in sardine oil and feeding them to their tigers (spoiler alert!), hoarding toilet paper, competing to showcase the best Zoom background during class, and participating in way too many social media "challenges," perpetual boredom is a standard and inevitable phenomenon. In the likely event that you require some new activities to try at home, here are some ideas:
It's safe to say quarantine has led us to discover many emerging chefs and kitchen talents. Since you may not be able to buy food or drinks from your favorite restaurants during this time, be resourceful and cook, bake, juice, or blend something from the many delicious recipes available online with whatever food you have in your house. 

Let your creative juices flow and paint, draw, sketch, or sculpt whatever sparks your imagination. You can also grab some tie dye and add some color pop to your old clothes. Whether you're the next Picasso or simply painting old shoes to spice them up, being artistic is a great way to fuel your soul. 

It's extremely important to continue to stay active during this time for both your physical and mental health. An endless amount of home workout possibilities are circulating, so choose some of your favorites and try to get your daily exercise in. If you need extra motivation to get up and work out, it can be a good idea to Facetime with some virtual gym buddies or attend one of the many

free virtual workout classes

. 

Take this opportunity to learn something new. From mastering a new language to discovering how to code to learning how to play a new instrument, there are an abundance of online classes available to help you put this extra time to good use. 

Complete whatever home project you've been wanting to do for years but have never had the time to do. Redecorate your room, make photo walls, build something new for your house, paint your wall, or organize the area where you've been hoarding years worth of unnecessary stuff.

Helps others in need during this time. Make masks, send supplies to medical workers or people in need, tutor from a distance, raise money, donate blood, and support whichever causes are most important to you. For

more ideas

on how to best help, feel free to contact Ms. Zeavin or check out the Service Learning page.

Online socializing! Talk to your friends through Zoom, Group FaceTime, House Party, WhatsApp, Discord, or any of the many other options. It's really important during this time that you check in with the people you care about from time to time and catch up. Another popular way to stay connected has been making group, or individual, TikToks. 

Host a movie or game night. Besides watching at home with your family, you can download Netflix Party to view your favorite shows and movies with your friends. You can also host virtual game nights via Discord or another online platform with a variety of

online games

.

Check out the newest music that many artists have released during this time. Make new playlists with some of your favorites and share them with your friends. Music can be a great way to stay connected! Many of your favorite artists are even holding online concerts or live streams, providing a unique opportunity for fans to engage with their music live.

Read and write for fun. The extra time at home is a perfect opportunity to read and write something of your choice outside of school work. Find a comfortable spot to curl up with a good book, or write creative poetry or prose about whatever interests you. And, as always, if you want to write an article for

The Palette

, you know where to find us. 

Take some virtual tours to explore new areas. From touring colleges to

visiting London

to admiring the art at

The Vatican Museum

or

The Louvre

to hiking through

national parks

to riding a

roller coaster

at

Disneyland

to

learning to scuba dive

to meeting the animals in our very own

San Diego Zoo

, the virtual possibilities are endless.

Get a breath of fresh air and soak up some Vitamin D by (carefully!) going outdoors from time to time. As long as you're following all of the social distancing safety guidelines, relaxing in your backyard, hiking, walking your dog, or going on runs can be great, refreshing ways to step outside for a bit and experience a change of scenery.