The Ugly Club: what the medieval town of Piobbico has to teach us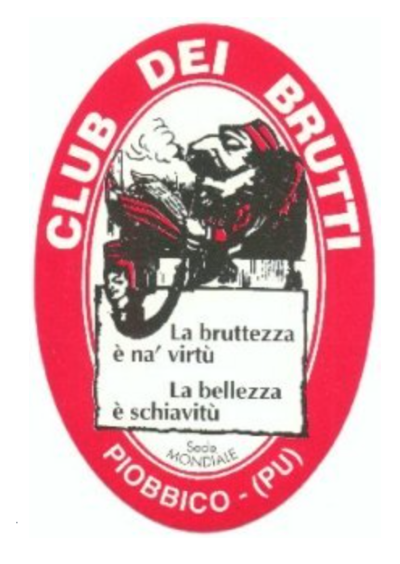 How many times have you been embarrassed of the way you are dressed, conscious of your body, or weary of your haircut? How many times have you felt as if society is attempting to put you into a box, but just one little part of you is sticking out and doesn't fit in? Most likely, the answer is more times than you could possibly count. 
In our world, a heavy emphasis is placed on one's appearance and how people present themselves to others. This pressure is a negative one indeed: it can cause our true identities to be buried inside of ourselves, neglected. This pressure discourages individuality and causes us to be ashamed of who we are.
So why not value distinctiveness? That's what the Club dei Brutti —'ugly club' — has been doing since 1879 in the picturesque town of Piobbico, in central Italy. For 140 years the club's goal has been to break stereotypes surrounding physical beauty and prove that people's beauty should not be determined by their looks. Giovanni Aluigi, the club's president, remarks that "the most important motto is 'ugliness is a virtue, beauty is slavery'. We want to make people understand that what is important is what we have on the inside. The way we know how to do things, our soul. That life is not just about exterior appearances." 
On the first Sunday of September each year, the "Festival of the Ugly" occurs in Piobbico, and the club's president is determined while attendees dine on local truffles and other exquisite local specialties. "Truffles are the ugliest growth in the ground and yet they are precious," says Telesforo Iacobelli, the previous president of the club. "Nature is honourable, it gives other qualities to those of us who are ugly."
Since 1879, the club has grown tremendously and now boasts over 30,000 members. To join the club's swelling ranks, one's ugliness must be evaluated by one of the club's senior members. If you are unable to meet with one of the members, however, you can contact the club at Club dei Brutti, via Dante Alighieri, 25, Piobbico (PU) 61046 Italy, no ugliness evaluation required!
"It doesn't mean you are ugly if you are in the club, it means that you are very beautiful on the inside…It's okay to be you," says Benedetta Aluigi, a member of the club. "Whoever you are, it's okay, it's fine, it's beautiful…Differences are important and give colors to the world"
In our society, in which physical beauty is so heavily correlated with love, success, and triumph, it is easy to forget that beauty is not an attribute to be based on one's physical appearance, but rather, one that shines from the inside out. And yet, the people of the Piobbico have revolted against the norm, and reminded us that it is those of good character that truly triumph in life.
Sources: http://web.ncf.ca/dq579/inugly.html
http://www.bbc.com/travel/story/20191210-the-italian-village-that-celebrates-ugliness
https://www.vice.com/en_asia/article/5gqyy5/piobbico-ugly-people-world-association-festival-876
https://en.wikipedia.org/wiki/World_Association_of_Ugly_People