Winter is coming: how to stay HAPPY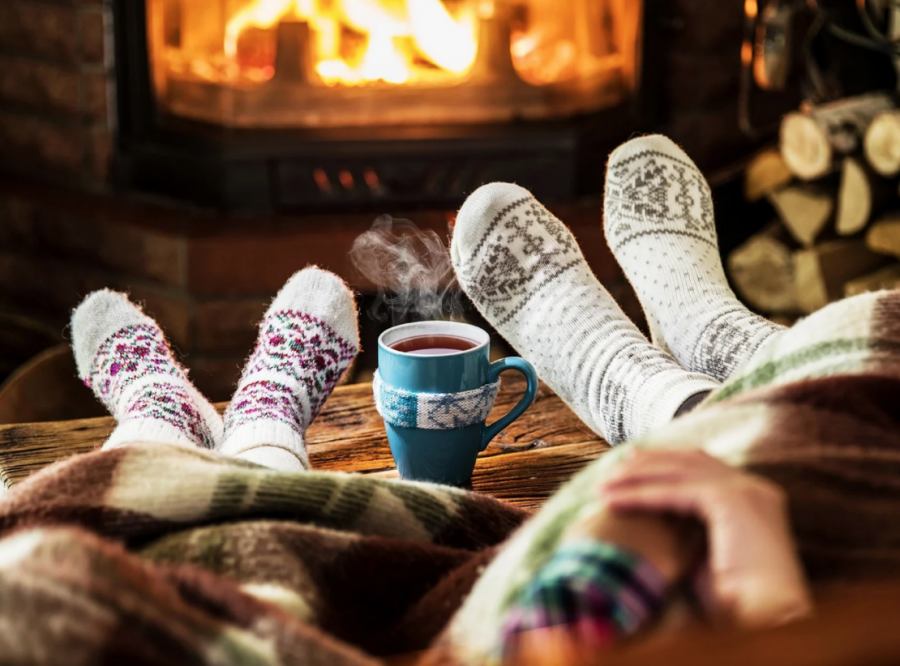 Danielle Amir-Lobel, Editor-in-Chief
March 4, 2020
Psychological research has suggested that changes in the weather can lead to negative mood shifts or even Seasonal Affective Disorder (SAD), a phenomenon with many of the same symptoms of depression that arises at a particular season of the year. Granted, we are fortunate enough to live in "sunny San Diego," but, at least by our standards, this year has brought some colder weather. These changes, when combined with the stresses of school, extracurriculars, and everyday life, can be harmful to our mental health. To help you avoid SAD and instead be HAPPY this winter, here are some ideas for how to stay warm, cozy, and cheery:
Cuddle up to a new show on Netflix, Hulu, or Disney Plus (sharing your subscription with me is highly recommended). 

Go stargazing. How often do you simply lay down outside under the night sky and observe the wonders of our galaxy? Remember that any problems you face in the moment are infinitely small compared to all that is out in the universe.

Don't forget about your social life! Being around friends and family is extremely important to stay happy and warm. 

Take a hike. Get yourself off of the couch and into nature. Breathe the fresh air, and get in a bit of exercise. Some of my personal favorite San Diego hikes include Torrey Pines State Park, Los Penasquitos Canyon Trail, Cowles Mountain, and Mount Woodson with its "Potato Chip Rock". 

Read a book by the fire. Find time to pick up a book outside of your schoolwork that interests you. 

Eat healthy foods. Eating nutritious meals is important for maintaining a healthy lifestyle and can boost your wellness. Although it can be especially difficult to moderate your eating patterns during the holidays, remember to do your best to care for your body. 

Host a game night with friends or family. Try out the newest card game, board game, or video game and facilitate a fun, competitive tournament.

Throw a slumber party and spend the whole day in pajamas. Who doesn't love pajama day?

Exercise regularly! Exercising releases endorphins which trigger positive, happy feelings in your body. Motivate yourself to try out that new gym, join a sports team next trimester, go for a beach jog, hit the pool and swim some laps, or sign up for that extra Soul Cycle class.

Go outdoors. Yes, it may be cold outside, but experiencing natural sunlight is healthy. Reduced sunlight can influence the body's circadian rhythms or lead to decreasing serotonin levels, which has a negative effect on your mental health. 

Meditate. Studies have suggested that meditation can relieve anxiety and relieve symptoms for those suffering from depression. Meditating even for a few minutes can act as an effective stress-reliever to help clear your mind and maintain mental health. You can even try taking a yoga class this winter. 

Bake cookies. Chocolate chip, sugar cookies, snickerdoodles, … all warm and fresh from the oven. Dip them in milk and achieve perfection. (Sorry if you're hungry now.)

Get enough sleep. A factor that is believed to contribute to SAD is disruptions to proper melatonin levels (melatonin is a hormone important in controlling sleep patterns and moods). The American Academy of Sleep Medicine recommends that high school students strive for 8-10 hours of sleep each night. Trust me, I know this goal often seems impossible with our busy lives, but it is important to do your best to rest. 

Enjoy your favorite warm drinks. Whether it's coffee, hot chocolate, warm apple cider, tea, or the latest seasonal drink at Starbucks, these can be a great start to especially tiring and long school days, or as an afternoon treat. 

Volunteer at your local soup kitchen, library, community center, food pantry, homeless shelter, retirement home, etc. (see Ms. Zeavin for ideas). Making a difference in your community is not only important and amazing but can also be very personally rewarding and gratifying. 

Have a bonfire. Many beaches around San Diego have fire pits where you can show off your boy/girl scout fire-starting skills and make s'mores. You can also light some candles and have a personal bonfire in the comfort of your own home. 

Create a winter song playlist. Whether it's on Spotify, Apple Music, or Soundcloud, making new themed playlists is always a refreshing change of pace. 

See a local play or musical. Whether it's one of LJCDS's many productions or local theater, these viewings are always an exciting variation from your usual Netflix binge-watching. 

Spend the night away in a cozy cabin. Although we love San Diego, sometimes it is nice to experience a change of scenery to refuel and regenerate. Take a road trip with a few friends or family members for a little retreat. Take a ski/snowboard trip to Big Bear, bathe in the Palm Springs hot springs, drive up to Julian to try their famous warm apple pie, board the ferry to Catalina for snorkeling or scuba diving, ice skate on the beach at Hotel Del Coronado, or rock climb at Joshua Tree National Park. 

Embrace hygge. Hygge (pronounced "HUE-guh")

is a Danish and Norwegian word that (unfortunately) does not exist directly in English. It describes a special quality of coziness, wellness, and contentment. If we all simply live this Danish lifestyle, we would find ourselves with much more harmony and self-fulfillment. 
Sources:
https://strategicpsychology.com.au/effects-of-winter-on-moods/
https://www.health.harvard.edu/blog/let-the-sun-shine-mind-your-mental-health-this-winter-2017012311058
https://www.livescience.com/50105-cold-weather-psychology-behavior.html
https://www.newyorker.com/culture/culture-desk/the-year-of-hygge-the-danish-obsession-with-getting-cozy