Fall sports at LJCDS: A look back
Here's a look back on fall sports.
The season of fall sports is nearing its end. It is appropriate now, more than ever, to look back and recap on all the memorable events during its time. Torreys competed in field hockey, water polo, football, volleyball, rock climbing, ultimate frisbee, and women's tennis.
Football, per usual, was on everyone's mind at the start of the year. With much of the core team becoming seniors this year, us fans also got to see the future in the underclassmen.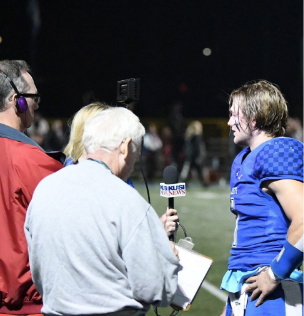 Country Day football was led on offense by quarterback EJ Kreutzmann, the duo of receivers Daniel Rosenberg and JC Gustin, and running back Nicholas Albert. Currently, EJ is a candidate for the Prep Pig-Skin offensive player of the year award. Defensively, Mondo Nishiba and Frankie Carney stepped up immensely at corner, and Brett Grainger and Zach Alligood helped lead a fundamentally sound defensive unit. The line was led by captain Anthony Altala and supported by Sam Alligood and Devin Longenecker. After heading into the playoffs, Big Blue was able to keep up its pace, and the Torreys defeated Tri-City Christian in first round. After that victory, the football team faced off against Montgomery High School on Friday, November 15 and won.
Women's volleyball was a big success this season. A strong team led by a solid core and supported by new faces, the volleyball team will look to keep its championship dreams alive come playoff time. They defeated La Jolla High School in the first round of playoffs. It was a very exciting back and forth game. I caught an interview with junior Mia Muzquiz who expressed her excitement for the next round of playoffs.
I asked her, "What would be the key to continue on this win streak?" She replied, "I mean I think we just continue what we're doing and each member of our team has to do their job. Not worry about anything else. If we do that, I think we'll be alright."
Ultimate frisbee was another sport with a successful fall season. Coached by Daniel Norland and Rob Bethea, the team was made up of a bunch of new faces, adding to the fun accessibility of the sport. I was able to catch an interview on the sport with sophomore Terentin Tran. 
I asked him, "What's your favorite part of going to frisbee after school everyday?" Terry's response was: "It's lots of fun, and, when I've had a long day, I can look forward to just spending time playing a sport I love with my friends." Terry enjoys burning of energy after a long day of school through frisbee.
Water Polo also showed up big this season. For those who aren't familiar with the sport, it's basically soccer, but you're constantly treading water and you use your hands. Coached by Steve Traverso, the team lost some key members last spring, but, as usual, new players have stepped up to fill in. Players on the team include seniors Matthew Tibbetts and Austin Yang and juniors Cameron Mirbod and Sam He. I was able to catch a few words with Austin.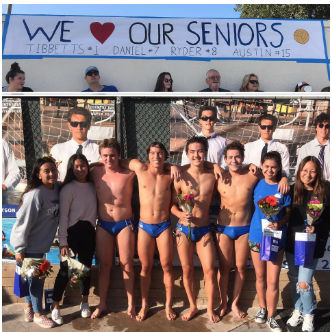 I asked him, "What will you miss the most from your final year of water polo?" He said, "Honestly, if I had to pick from just this year, then it would have to be the team. I will miss this team that we got here the most. It's a special group, it really is. And I'm very lucky to be a part of it, especially in my final season at Country Day." The team was successfully able to win during its senior night game in front of a packed JCC crowd.
Fall sports have been a blast this year, and we're only getting started. Winter promises a basketball team looking to assert their dominance, even after losing its star senior. The women's basketball team will also be looking to improve on last season and ultimately look to win CIF. Soccer will be led by many players including Nick Attanasio, Alex Glynn, and Kian Power.  We're looking forward to a great winter season, and congratulations on all the great accomplishments this past season.