Tracking femicide in Europe: the homicides inciting political action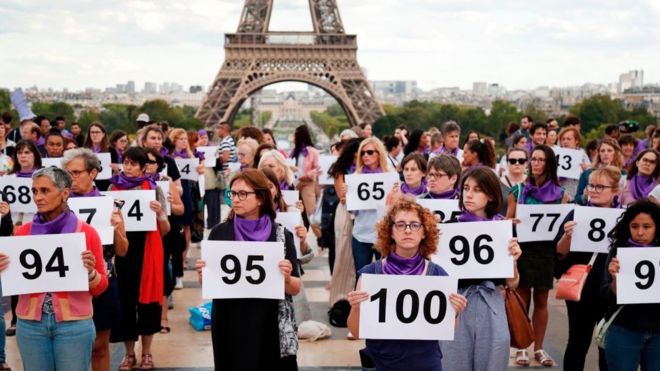 Aidan Ideker, Staff Writer
November 1, 2019
By the end of this year, 150 women are expected to be killed by an intimate partner in France—a record number for the country. How are France and the rest of Europe responding to this issue? 
The body of Salomé was found on September 1, messily hidden under a pile of debris near the railroad tracks in Cagnes-sur-mer in southern France. Salomé was quite young, only 21 years old, and her life was spread out ahead of her, a vast universe of possibilities, only to be stolen prematurely. Her killer was her partner, as is the case for many female homicides. In Salomé's situation, her partner violently hit her after an intense argument erupted. 
Sadly, Salomé's case is not abnormal in France or in Europe as a whole for that matter. In fact, just the day after the pallid body of Salomé was discovered, a 92-year-old woman was caned to death by her 94-year-old husband in France as well. These instances of female homicide are known as femicide, an extreme form of gender-based violence in which women are killed in behalf of their gender.
Femicide is most often committed by a family member of the victim or an intimate partner. In 2012, the United Nations on Drugs and Crime (UNODC) conducted a global study on homicides, and found that only 9% of male homicides are performed by relatives or mates, while a startling 50% of female homicides are performed by intimate partners or family members.
Salomé's murder accounts for the grim 100th mark in France's tally of femicides this year, an especially somber number indeed. At the current rate, 150 women are expected to fall victim to this horrible crime in France this year.
European Femicide in Numbers
As of 2017, the two countries with the highest rates of femicide by an intimate partner in Europe are Northern Ireland and Romania (both countries suffering 0.43 femicides per 100,000 inhabitants, according to Eurostat). Hungary also has a considerable femicide rate with 0.42 femicides per 100,000 inhabitants as of  2017. Women in these countries do not possess as much protection under the law to help defend them from domestic violence as in other European countries. For example, "Northern Ireland does not have a law criminalising the use of "coercive control" on a partner," as stated by the BBC.
Contrarily, the lowest rates of femicide by a partner are in Iceland, Malta, and Cyprus, with 0 femicides per 100,000 inhabitants in 2017, followed by Greece, with 0.1 femicides per 100,000 inhabitants in 2017.
Of course, femicide cannot be simply reduced to numbers, as statistics do not paint the full story of the true atrocity and complexity of the act. Viviana Wisman of Women's Link Worldwide remarks that "violence against women is an issue that transcends borders, class and socioeconomic status. It impacts women and girls in all societies."
How Society Deals With Domestic Violence
In Finland, where femicide rates are 0.36 per 100,000 inhabitants—frighteningly high in comparison with its European neighbors—legal efforts for gender equality have not been focused on private life but rather on the public sector, according to Paivi Naskali, a professor of Gender Studies at the University of Lapland. 
Modesta Kairyte, a social activist for domestic violence in Lithuania, adds that "society still blames the woman" and conveys that there is a widespread notion that, by leaving an abusive relationship, the woman is harming the children. "It's a shaming process," she says. Sophie Barre of the Women's Organization in France reinforces this idea, remarking that "police refuse to listen to victims when they come forward. Or worse, they make inappropriate remarks, or blame the victim for what happened."
In France, it is the law that may be fomenting femicide. French lawyer Anne Bouillon points out that French jurisdiction "permits judges to consider violence and the threat of danger as two separate offenses, both of which are necessary to issue a protective order." This absurd nature of the law causes half of all protective orders to be turned down in France.
Europe's Actions on Femicide
Spain has long been seen as an exemplary country in terms of its preventative measures against femicide. For example, around the entire country, 10,000 emergency telephones have been installed for victims, and electronic bracelets are in effect that alert authorities when an assailant comes too close to a victim. In Spain, the law interprets instances of domestic violence so that "courts grant more than ten times the number of protective or restraining orders than in France."
Another European effort to battle femicide is seen in the COST Action IS1206 which was a major initiative funded by COST (Cooperation in Science and Technology) and the European Union for four years starting in 2013. The COST Action IS1206 had a goal of expanding our understanding of femicide, monitoring femicide in Europe, and educating citizens on the dangers and preventive measures one can take to inhibit femicide.
More recently, the French government has taken action in hopes of preventing femicide in France. On September 3, the French government opened a national debate on the issue in hopes of defining and identifying the causes of the felony itself. The French prime minister Edouard Philippe has also announced the allocation of five million euro in September to fund the fight against femicide. This money will open 1,000 new domestic violence shelters for targeted victims and fund analysis of how women's complaints are handled in 400 selected police stations. Furthermore, on September 3, the domestic violence hotline of France, 3919, was relaunched in efforts of fighting femicide and domestic violence.
Is There Hope for a Safer Future?
There have been two resolutions passed by the the United Nations General Assembly in 2013 and 2015, which aim to decrease the frequency of violent acts committed against women, and  encourage "Member States to adopt strategies and responses to address violence against women and reduce the risk of gender-related killings." Furthermore, the Council of Europe Convention on Preventing and Combating Violence against Women and Domestic Violence in Istanbul.
Femicide, no matter what actions we take, will continue to be an issue for many years, not only in Europe, but around the globe. However, if we push for more initiatives that teach young men how to treat girls respectfully, as well as teach teenagers and young adults what healthy relationships look like, we may prevent many femicides in the future.
Sources:
https://www.bbc.com/news/world-europe-49586759
https://eige.europa.eu/thesaurus/terms/1128
https://appsso.eurostat.ec.europa.eu/nui/show.do?dataset=crim_hom_vrel&lang=en
https://www.france24.com/en/20190708-culture-domestic-violence-france-femicide-problem
https://www.nytimes.com/2019/09/03/world/europe/france-domestic-violence.html
https://www.msn.com/en-au/news/world/france-announces-anti-femicide-measures/ar-AAGL5at?li=AAgfIYZ&fbclid=IwAR3WbOwHvBpdvV2InrZJWmaZH72gyrDVajiyOcGdjskOJFywFl4u-EMBgGo
http://www.leparisien.fr/faits-divers/feminicide-presume-a-cagnes-sur-mer-salome-21-ans-centieme-victime-02-09-2019-8144259.php