The IPCC releases report on the future of Earth climate
Kathryn Sandberg, Staff Editor
February 6, 2019
Hang on for a minute...we're trying to find some more stories you might like.
On October eighth, 2018, the Intergovernmental Panel on Climate Change (IPCC), a subsection of the United Nations, released a report on the future of climate change. It said that between 2030-2052 the global climate will rise by 1.5° Celsius if CO2 emissions continue at our current rate. The report however released projections for both 1.5° and 2° Celsius increase and both predict bleak futures.
This report is one of the most reliable and accurate reports on climate change currently. Since the IPCC is a branch of the United Nations, hundreds of scientists from across the globe are aiding in the reporting and writing of the report. The report itself has multiple parts with differing themes. Each part has a head scientist/writer who is responsible for a group of scientist. For example, Jim Skea is one of these head scientists, responsible for part three: mitigating the consequences of global climate change. His job is to manage and coordinate a few hundred scientists to gather data around the world.
The main idea of the IPCC scientists warn about is "the point of no return", specifically the year 2030. This means that by 2030 the major effects of global warming will be irreversible. The only way to stop the cataclysmic events of climate change would be a complete stop of CO2 emissions by 2050 with a 45% decrease within the next few years. Even if this was met, "most aspects of climate change will persist for many centuries." Because of this, they called for far-reaching action specifically targeting governments to become more active in the issue. However, so far this report hasn't had the impact needed to make change. People may see the IPCC's 2° Celsius projections come true.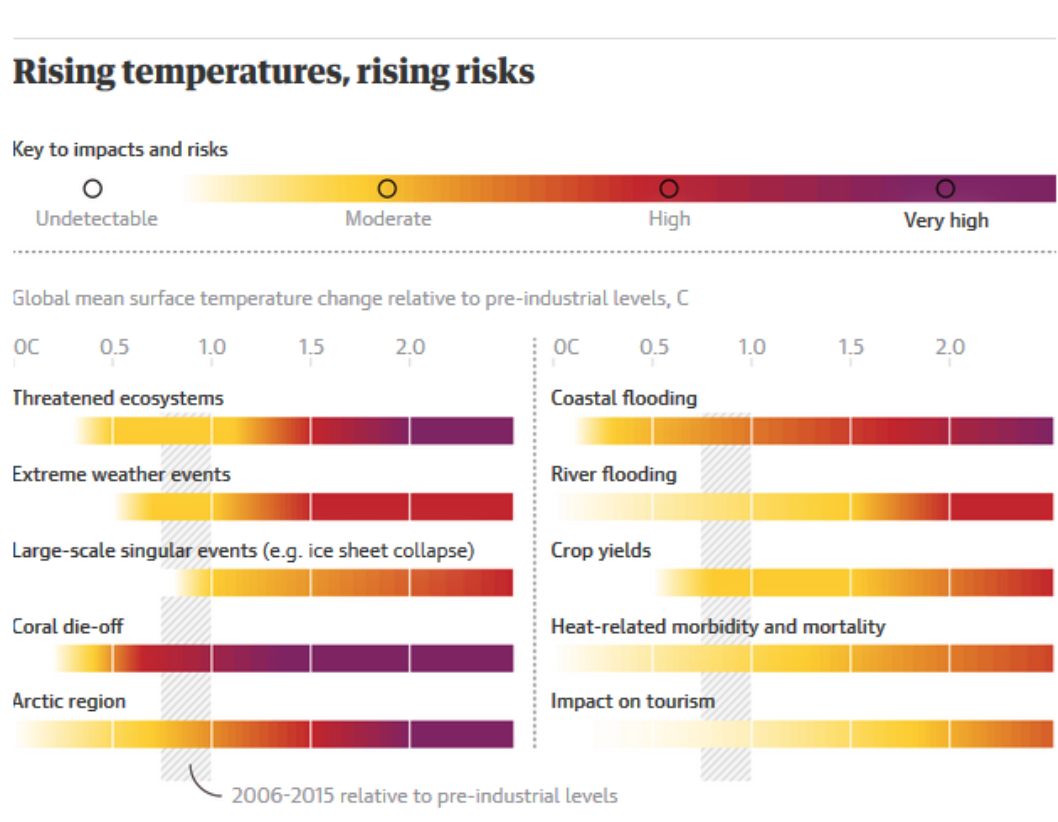 Some of the predictions in the report include the Arctic Ocean completely devoid of sea ice in summer once per century with global warming of 1.5°C (once per decade with 2°C). Coral reefs would decline by 70-90 percent with global warming of 1.5°C, whereas virtually all (>99 percent) would be lost with 2ºC. Extreme weather events (hurricanes/typhoons, fires, etc) will become more severe and frequent. Ecosystems, especially marine and arctic, will be drastically altered and damaged.
Even if it appears to be a gloomy century ahead of us, there is still time. While extreme widespread action hasn't happened, the world as a whole is moving towards more CO2 emissions-free technology. With more research and effort going into this issue the future may be preserved for generations to come.
Sources:
https://www.bbc.com/news/science-environment-45775309
https://www.nationalgeographic.com/environment/global-warming/big-thaw/
https://www.nationalgeographic.com/environment/2018/10/ipcc-report-climate-change-impacts-forests-emissions/
https://www.theguardian.com/environment/2018/oct/08/global-warming-must-not-exceed-15c-warns-landmark-un-report
http://www.ipcc.ch/report/sr15/
https://www.nytimes.com/2018/10/07/climate/ipcc-climate-report-2040.html
https://www.youtube.com/watch?v=m1JBY6TJiZg