LJCDS 2018 Boston and New England College Tour
Danielle Amir-Lobel, Staff Editor
October 23, 2018
Hang on for a minute...we're trying to find some more stories you might like.
Over the week of Experiential Education, I attended the Boston and New England college tours trip. After waking up very early Sunday morning and flying to Boston, we ate dinner, tasted some famous Bostonian pastries, and drove to our hotel in Rockland where we stayed for most of the nights. Every morning that followed, we ate breakfast and then set out to tour colleges. The first college we visited was Bentley University, located in a suburban environment nine miles out of Boston. This school, which has 4,000 undergrad students, focuses mainly on business and has a very involved, collaborative environment. Highlights of this university were that it housed the largest financial trading room on a campus in the country, Dunkin Donuts, and had a specific four year plan to get students into the career world. After eating lunch here, we toured Boston College, a Jesuit school with 10,000 undergrad students, located in Boston. Boston College had pretty, gothic architecture, silent libraries, and a good football team. We ended the day with dinner at Quincy Market.
The next morning, we went to Tufts University, located in Medford, with an undergrad population of 5,500. This university has a pretty campus which houses a school of engineering, a school of science and arts, and a school of fine arts. Students are able to interact with and mix between these different schools. A unique aspect of Tufts University was their X-college which gives students course credits for teaching a class about whatever topics they are interested in. Next, we drove to MIT in Cambridge, where we did not have a scheduled tour or information session, but students were given the choice to either explore the campus on their own or eat lunch. I went along with a few others to explore the campus. After speaking with an admissions officer, we walked through the famous infinite corridor, marveled at MIT's unique architecture, and visited the MIT Coop. After MIT, we toured Harvard University, also in Cambridge. We learned about the history of the university and its beautiful buildings. Highlights were the abundance of libraries, including the largest academic library in the world, the Statue of Three Lies, and the eleven different academic units of the university. We finished our night with free time at Harvard Square and dinner in Boston.  
The following morning, we drove to Hartford, where we visited Trinity College, a small school of only 2,100 undergrad students. This college has a nice campus, is not religiously affiliated, contrary to implications of its name, is test optional, and allows students to study a combination of liberal arts and sciences. Highlights were its emphasis on community learning and a wide variety of study abroad options which included studying at a Trinity campus in Rome. Later, we visited University of Connecticut, a large school of 20,000 undergrad students, located in a college town of Storrs, Connecticut. A highlight of UConn was its many facilities which include an engineering school, a nursing school with "live" robots, a school of education, and even an on-campus farm. Then we drove to a hotel in Providence, Rhode Island, where we stayed the night.
In the morning, we visited Providence College which is located in Providence, with an undergrad population of 4,000 students. Providence is a Catholic liberal arts college with modern facilities including a brand new scientific research building. Next we toured Brown University, also located in Providence, with an undergrad population of 6,700. Brown has an open curriculum for which there are no required classes and students are able to design their own majors and choose whether they want to be graded on the A, B, or C scale or pass or fail scale. A highlight of this university was its fun, supportive environment and the ability to partner science and humanities majors. Then, we drove back to Boston for dinner and our final night. On the final day, we toured Boston University, located on the streets of Boston with 16,200 undergrads. Highlights of Boston University were its great location and the wide variety of schools which included a school of business, education school, school of engineering, and a college of communication. Finally, we visited Northeastern University, where we ate lunch and were able to talk to LJCDS alumni attending Northeastern. Overall, this trip was a very fun experience and these college tours helped us realize which types of colleges we are interested in, even if we do not want to attend these specific ones.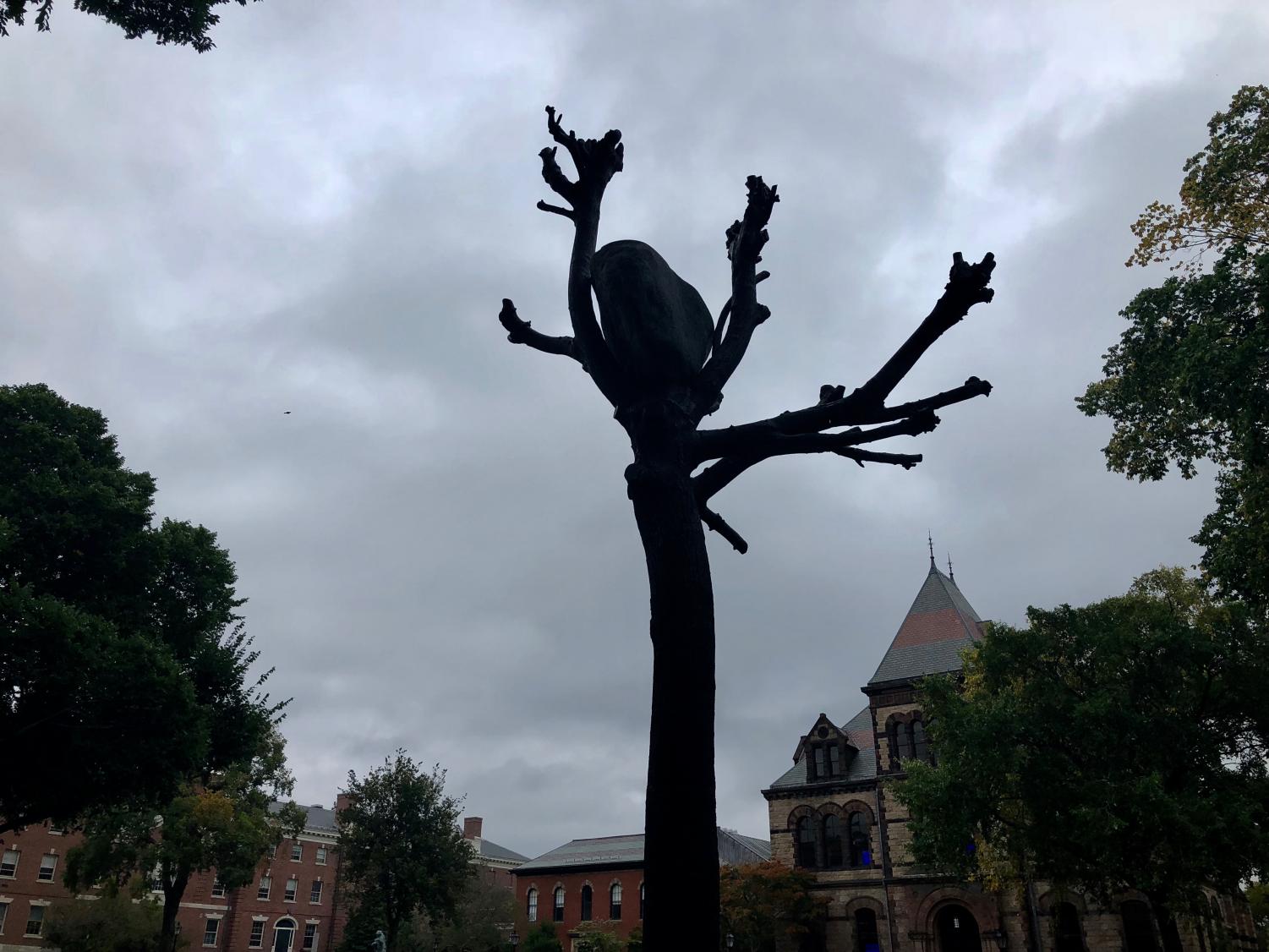 Temporary art display at Brown University of a fake tree with a real rock.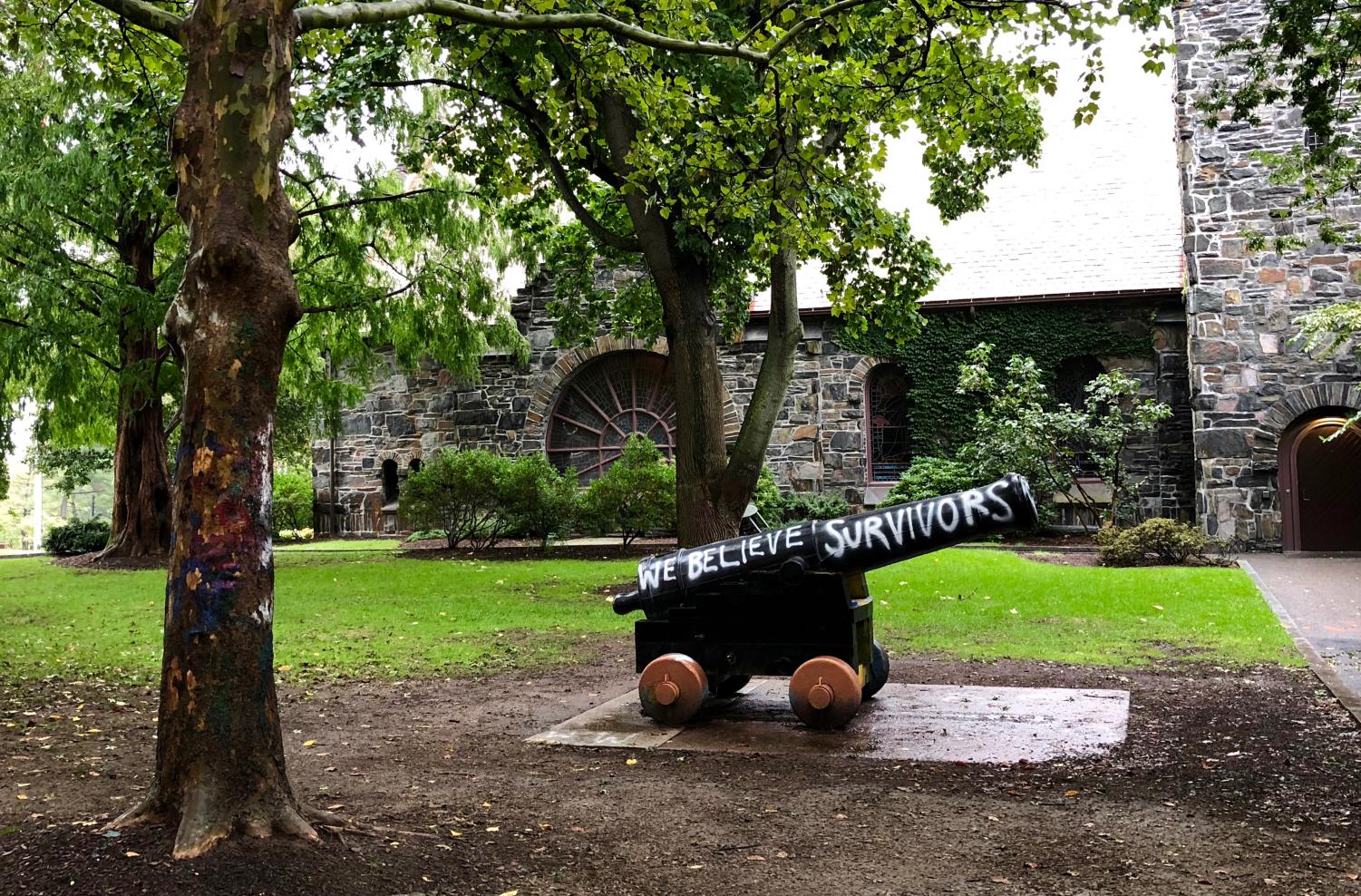 Cannon at Tufts University which the students paint as a school tradition.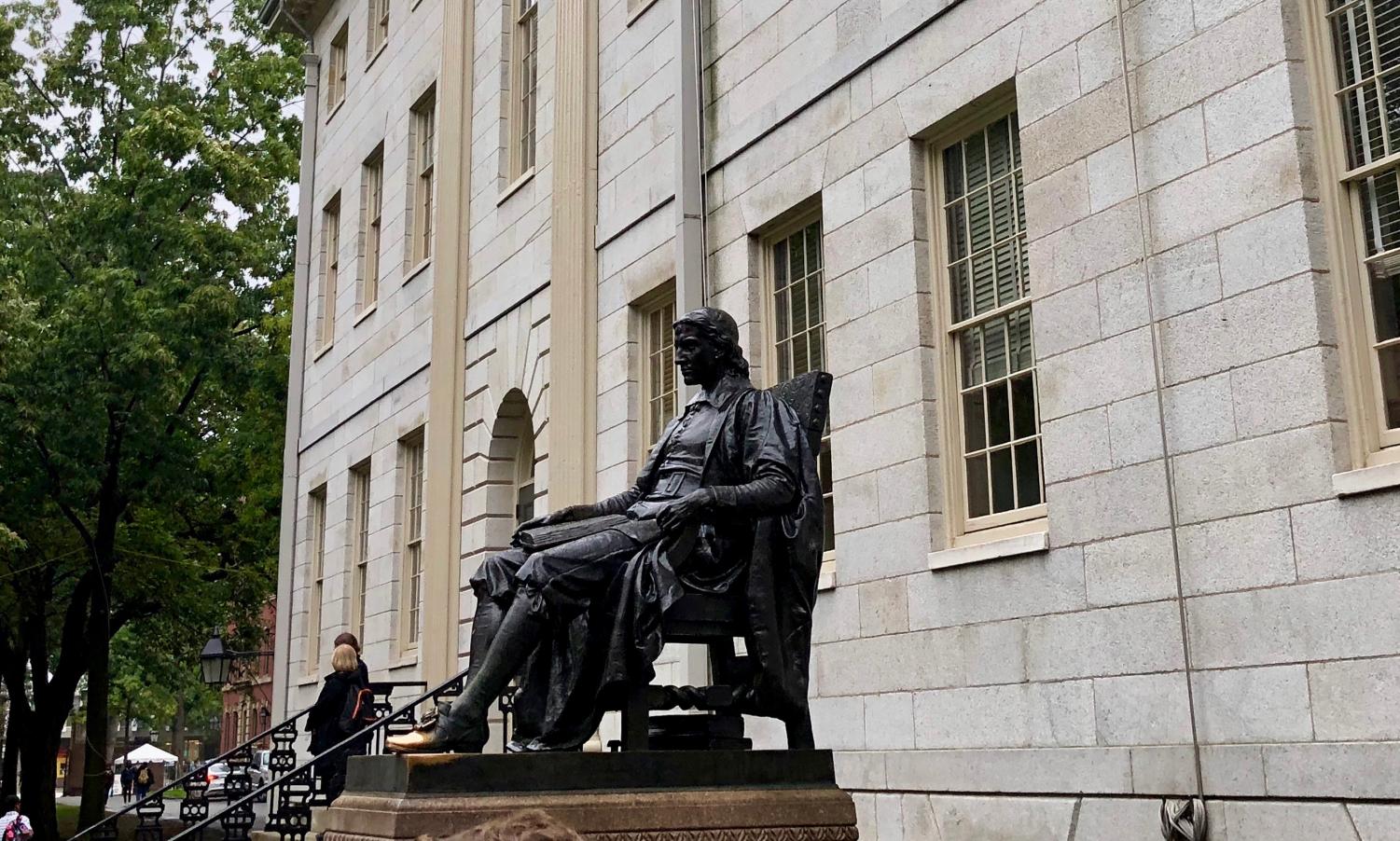 The "Statue of Three Lies" of John Harvard at Harvard University. The statue was given this name because it does not actually represent the likeness of John Harvard, John Harvard was not truly the founder of Harvard, only a major benefactor, and Harvard was founded in 1636, not 1638 (the date it says on the statue).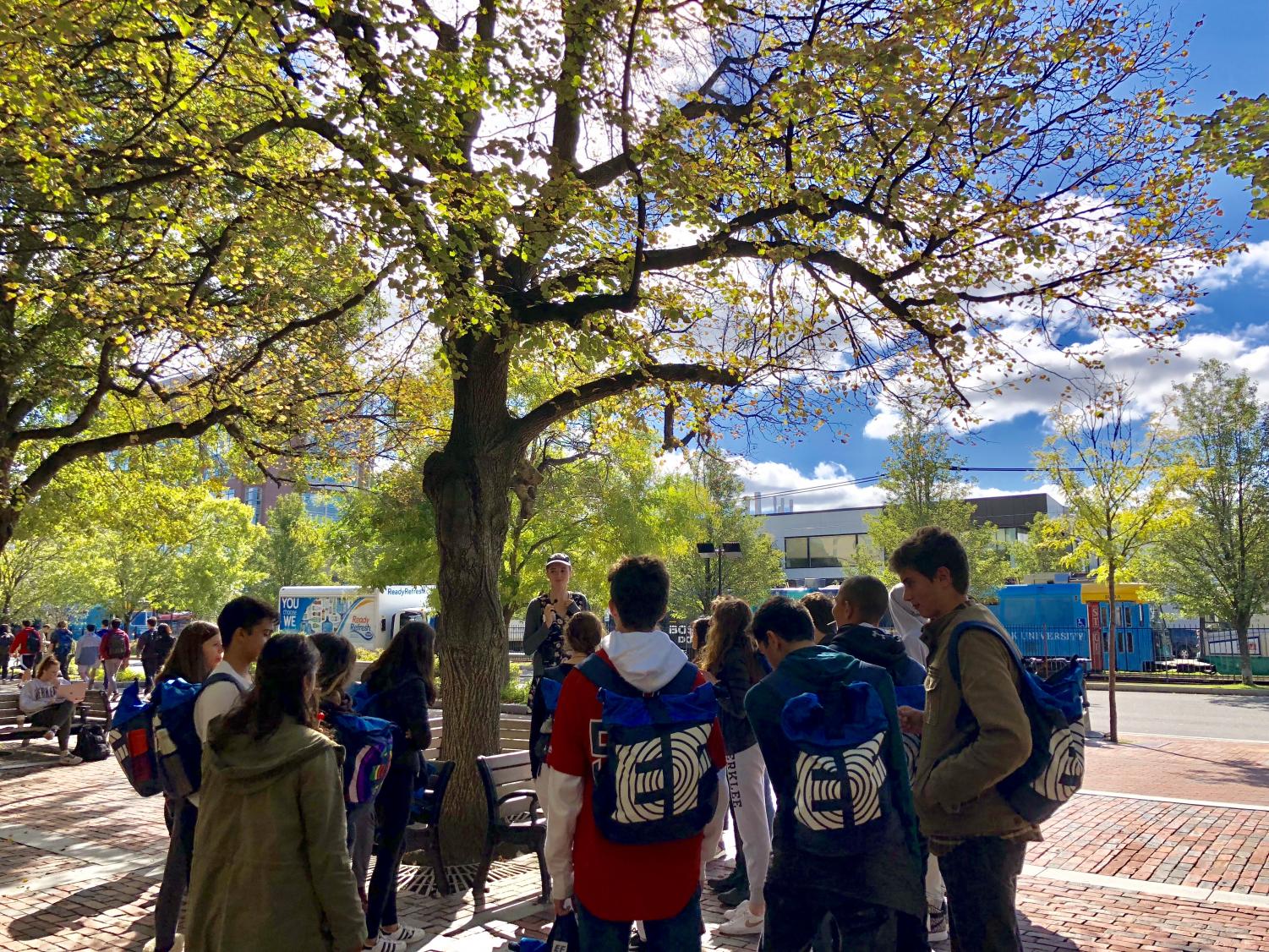 Students attentively listening to a walking tour at Boston University.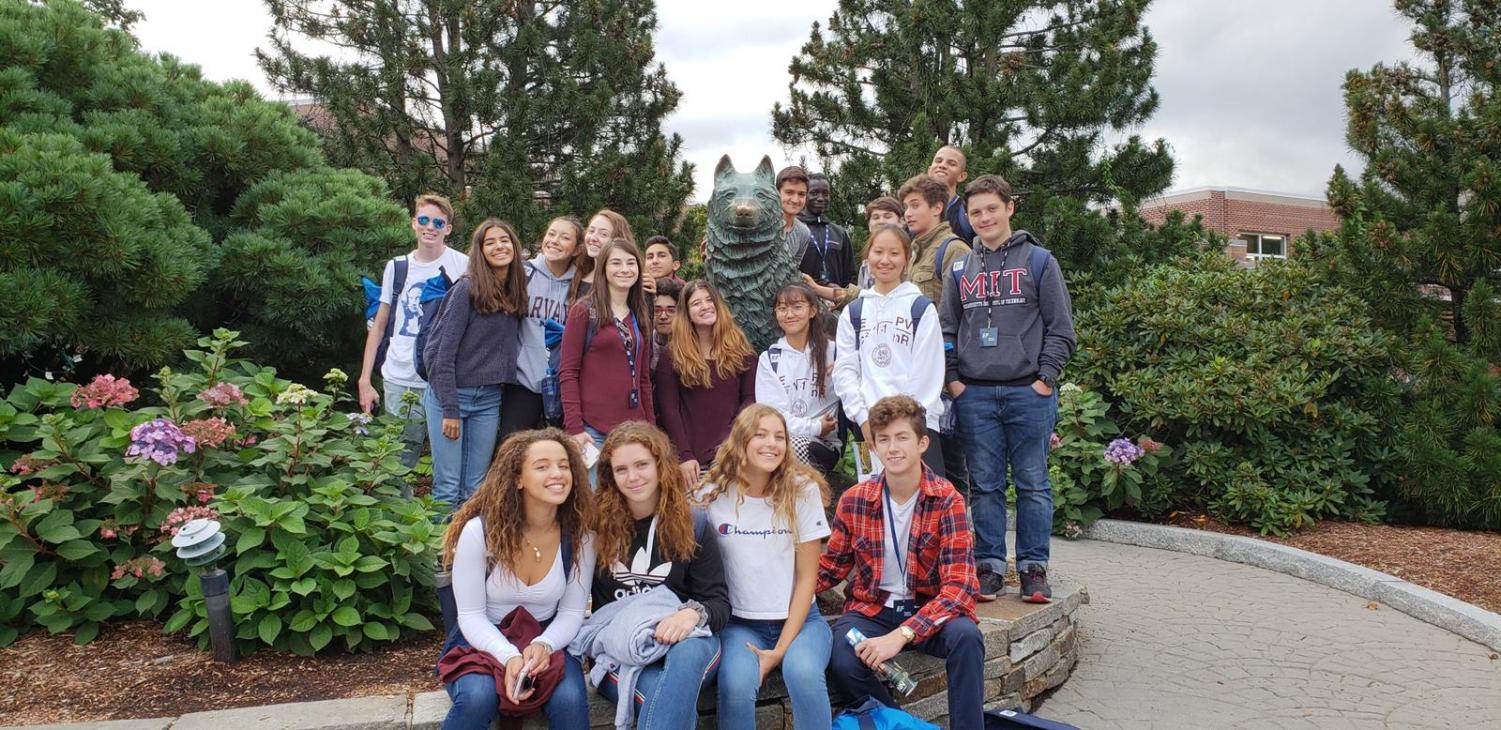 A group of students at UConn pose next to a statue of Jonathan the Husky, the school's mascot.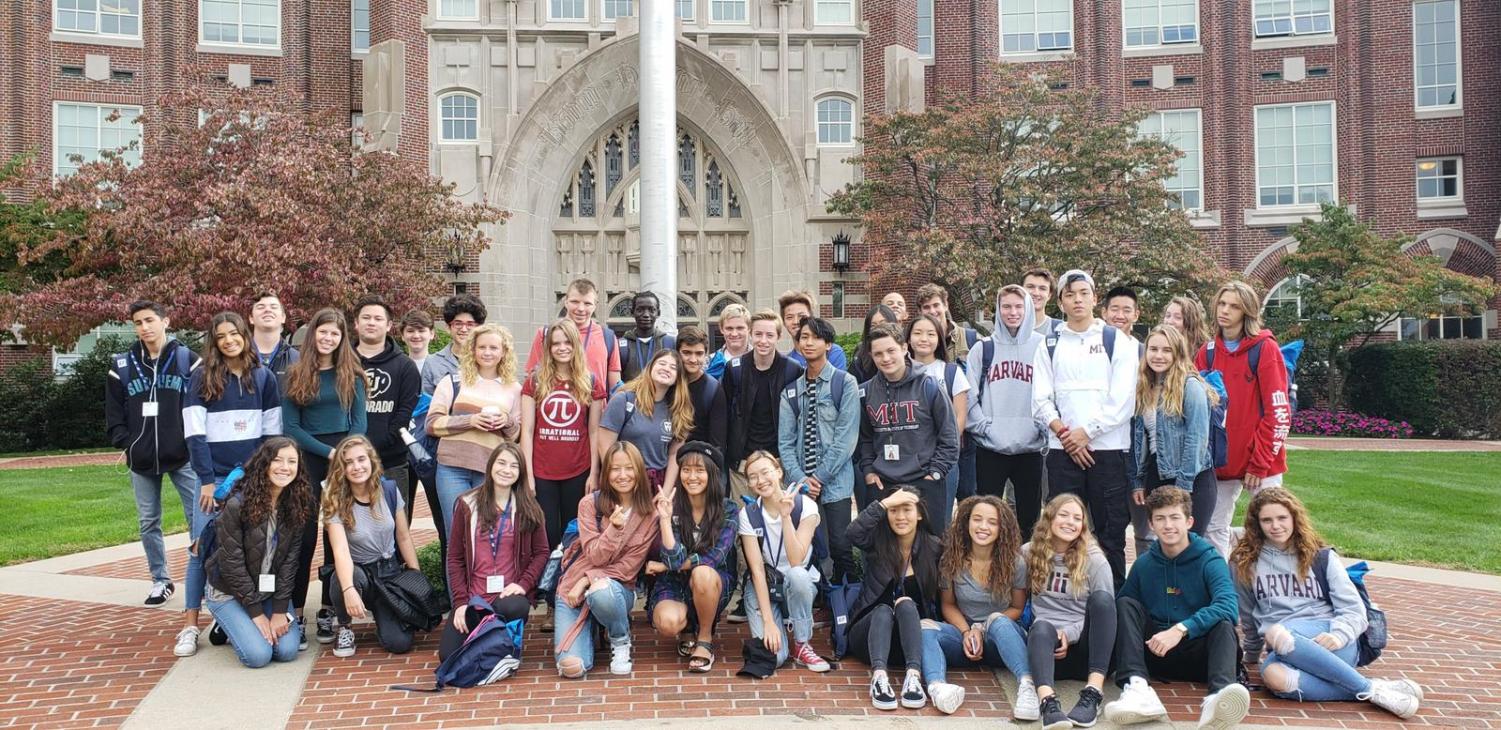 The entire group of juniors who attended the New England college trip, happy to be visiting Providence College in Rhode Island.
Photos by: Ariana Chadha and Danielle Amir-Lobel