The Controversy of Fire and Fury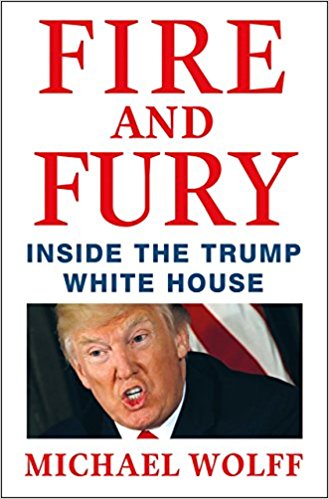 Sophia Scandurro, Staff Writer
April 18, 2018
Filed under News
Hang on for a minute...we're trying to find some more stories you might like.
Fire in Fury is a new, top selling book that is making shockwaves throughout the country. The book describes the first year of Trump's presidency and was written by Michael Wolff, his former campaign chief with help from Steve Bannon, Trump's ex-strategist. The book contains the many stories of President Trump's staff and many other stories discussing the big head lines we have seen these past months. The book has already gotten lots of press, the president bringing most of it, when he tweeted out "I never spoke to him for book… [it is] Full of lies, misrepresentations and sources that don't exist." Trump has brought so much attention, that the publishing company has already sold 1.7 million books.
The book covers the very beginning of Trump's presidency from when he was inaugurated on January 20, 2017 to the many problems he has faced. There has been many people questioning what's happening in our government after reading the book. The book has revealed the chaos and what many Americans consider to be the many whimsical actions taken by the president. The actions are recorded in the book by the people who are direct sources, dealing with the president and his decisions every day. Many of the quotes are given by Steve Bannon, his ex-chief strategist when he was counselling the president with government decisions and overall trying to  help the president accomplish the agenda of his party. Steve Bannon was heavily involved in Trump's everyday activities at the White House and was considered to be helpful to Trump until he was fired on August 18, 2017, after only about seven months into his service. The firing of the ex-strategist is nothing out of the ordinary, as three other people have been fired already.
The day the book was published Trump tweeted out: "Michael Wolff is a total loser who made up stories in order to sell this really boring and untruthful book. He used "Sloppy" Steve Bannon, who cried when he got fired and begged for his job"; going back on any previous good thoughts about his ex-strategist. The book would have made a sooner appearance, if the president had not prevented it from coming out on time. President Trump sent his lawyers after both the author, Michael Wolff, and the publisher, Henry Holt. His lawyer sent a cease and desist letter preventing any more publications of the book. The letter does not mean any legal action will take place, but it has the possibility of sending both to court. After the book was released on January 5, 2018 it has not dwindled in attention, making another appearance in the 2018 Grammy Awards. The book was read by famous celebrities including Snoop Dogg, Cher, John Legend, and a special visit from Hillary Clinton. The grammys performance was a surprise for all.
Sources:
Featured image from https://www.amazon.com/Fire-Fury-Inside-Trump-White/dp/1250158060
https://twitter.com/realDonaldTrump?ref_src=twsrc%5Egoogle%7Ctwcamp%5Eserp%7Ctwgr%5Eauthor
https://www.cnbc.com/2018/01/12/controversial-fire-and-fury-book-about-trump-may-bring-in-over-7-point-4-million.html
https://www.npr.org/2018/01/05/575916244/as-fire-and-fury-goes-on-sale-trump-attacks-keep-coming