A one day juice cleanse
Yuqi Yang, Co Editor-In-Chief
January 30, 2018
Filed under Opinion
Hang on for a minute...we're trying to find some more stories you might like.
I first came across the term "juice cleanse" in Harper Bazaar's beauty section; one of their writers introduced it as the new wellness trend. Juice cleansing, also known as juice fasting, according to Wikipedia, is "a fad diet in which a person consumes only fruit and vegetable juices while otherwise abstaining from food consumption". It just so happened that I had a long weekend, and I thought to myself, "what better time to try it than now?" So I purchased my first ever juice cleanse kit – six bottles of juices from Pressed Juicery – and attempted my very first juice cleanse. Here is my honest feedback.
I had my first bottle of juice at eight o'clock in the morning. I thought of it as my breakfast, since I wasn't allowed to eat any other food. So don't be fooled by the grapes and the strawberries in the photo – those things are there simply because I actually wanted to take some Instagram-worthy photos for once. The juice itself tasted very lovely – it contained apple, lemon, kale and five other ingredients. So far I thought I was off to a good start. "This is not that bad," I thought to myself, "I can totally do this!"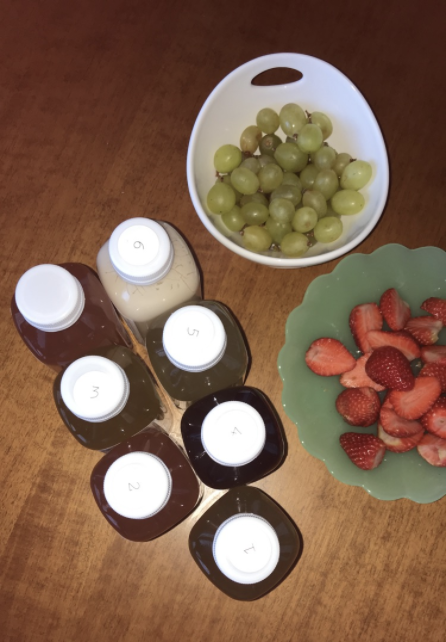 I was confident that the juice cleanse was a piece of cake, until reality kicked in around 9:30. My stomach, which usually is fueled with coffee and carbohydrates, was revolting against my dictatorship. The people – also known as my stomach – wanted food, and I had no food to give. Thirty minutes had never seemed slower; I chugged down my second bottle as soon as the clock reached ten (as instructed, one bottle of juice per two hours), or maybe even sooner. It was my favorite flavor – citrus 2! This discovery made me feel slightly brighter. The juice temporarily calmed down my stomach with lots of attitude; I emphasize the word "temporarily".
Not even a surprise by now, my stomach soon resumed its revolt. Only this time, my entire body joined the march. My hands and feet were cold and my head began to feel light and dizzy. I had to walk around the house wrapped in a heavy blanket and fuzzy slippers for the rest of the day. Granted, this is San Diego, the place where I can't leave the house without sunscreen. I spent most of my time counting down towards the next "meal" and the rest catching up on some shows and readings. I couldn't do much else besides that – anything involving concentration needs energy, and since all I ate/drank was liquid, energy was the last thing I had.
The last drink I had was more like a protein shake, and I was beyond grateful that this meant that my one-day cleanse had come to an end. The cleanse ended at six, and I went to bed at seven because I could no longer deal with the hunger and the best thing I could do was to make my senses fall asleep. The next day, I was so proud of myself that I had completed the journey and I treated myself to a boba tea, only to find out later that the boba tea caused me to break out.
To wrap this up, my thought on my overall juice cleanse experience is that this is certainly an experience. However, will I be doing it again in the future, or perhaps even go as far as making this a part of my regular routine? The answer is not very likely.