College Football Playoff Predictions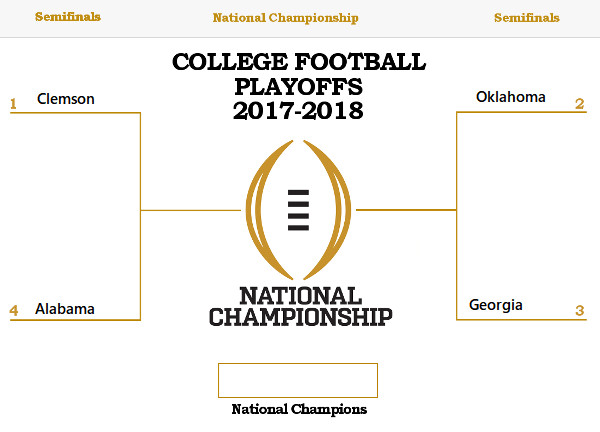 The College football playoffs semi finals are set and will start on January 1, 2018. The top four teams are Clemson, Oklahoma, Georgia, and Alabama. Clemson play Alabama in the Sugar Bowl. Oklahoma and Georgia play in the Rose Bowl game. Many people didn't think Alabama would make it into the playoffs because they didn't even make the SEC championship game. The only reason they got in is because Auburn lost to Georgia, which meant Georgia and Alabama made it into the top four. There were no surprises in Oklahoma and Clemson winning and staying in the top four. Baker Mayfield, the Oklahoma Sooners' quarterback, is looking to win it all in his senior year. Clemson is considered the best team all around, but upsets have been happening all year and there could be one in the playoffs. Many people think Oklahoma will win against Georgia, and I completely agree. Baker Mayfield is having an insane season and was just announced as the Heisman winner, which means he was voted as the best player in college football over the past year. Georgia's defense is great, but I don't believe that they can pull off the upset against Oklahoma. Many people say that Alabama and Clemson are a toss up game and no one knows who will win. I believe Clemson will get the big win against Alabama. Alabama is coming off a loss to Auburn and Clemson is coming off winning the ACC title and I believe that Alabama doesn't have enough offensive threats to get a win against Clemson's very consistent defense. I believe it will be Clemson versus Oklahoma in the final.
This will be a very competitive game because both teams are insanely good both on offense and defense. Even though Clemson has only played one top 10 team the entire regular season. They beat number 7 Auburn and Auburn beat Alabama in the last regular season game for Alabama. Also, Alabama hasn't beaten a top 10 team the entire season this year. Clemson's coach and team are always on the same page, and I feel like Clemson has more chemistry between each other. Oklahoma relies a lot more on one player, Baker Mayfield, but Clemson relies on every person on their team to win. I can't wait to see who comes out on top but I believe Clemson will pull off a big win to win the title.
Sources:
https://www.usatoday.com/story/sports/ncaaf/2017/11/30/usa-today-sports-college-football-staff-picks-week-14/908392001/