An interview with Mrs. Nordenger
Welcome to another chapter of Keeping Up with Country Day Faculty! Our guest is none other than our beloved head of development, Mrs. Nordenger! The Palette, as your forever fresh and trustworthy newspaper, has taken the opportunity to ask Mrs. Nordenger some questions, the answers to which many of you are dying to know. So let's get to it!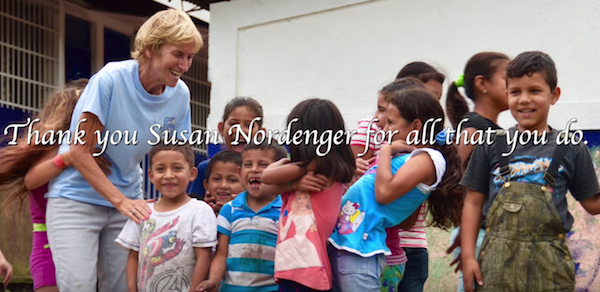 Yuqi: What's your favorite part about your job?
Mrs. Nordenger: I love the school, and I think it is really exciting to do something different after doing community service for 19 years. I love my team; they are great to work with. I am thrilled that community service is now a part of development. Community service connects students with the school on a new level.
Yuqi: What does your typical day look like?
Mrs. Nordenger: I actually have more meetings than you could ever imagine. I sit down with parents, faculty, administrators, and sometimes people from outside the school. The meetings are interesting, and, of course, productive. We talk about what we can do to bring greatness into our community. And the best part of meetings is that everyone brings food!
Yuqi: What is your go-to lunch at the cafeteria?
Mrs. Nordenger: I usually bring my own lunch, but I love their baked goods, especially the cookies.
Yuqi: What do you do in your spare time?
Mrs. Nordenger: I'd love to have more spare time, haha. I love to walk, hike, and spend time with my husband. I love seeing friends, baking, reading, and traveling. I love walking with my friends at Torrey Pines Trails. Walking by yourself is always a bit lonesome, but it is totally different when you are with your friend! You get to catch up and get your cardio in at the same time. Isn't that the best thing?
Yuqi: Any life advice to Country Day students?
Mrs. Nordenger: I love the Country Day kids. I would not trade them for anything in the world. But if I have to say something, it would be to be nice, work hard, do your best, and be nice.
Yuqi: Thank you so much for your time!
Mrs. Nordenger: One more thing, do you want to help yourself to some Red Vines before you go?
Yuqi: Yes please!